Your typical Tampa tourist attractions can get old really fast, so why not visit one of Florida's beautiful natural springs near Tampa?
Thanks to Florida's natural underground aquifer, about 800 billion gallons of water flow through limestone to bubble up to form more than 700 of the natural springs in the Sunshine State every single day. That's the largest collection anywhere on earth!
The water's temperature never goes above a crisp, refreshing 72 degrees, and through that crystal clear water, you can see entire ecosystems thriving: aquatic plants, gorgeous rock formations, and wildlife like manatees and turtles.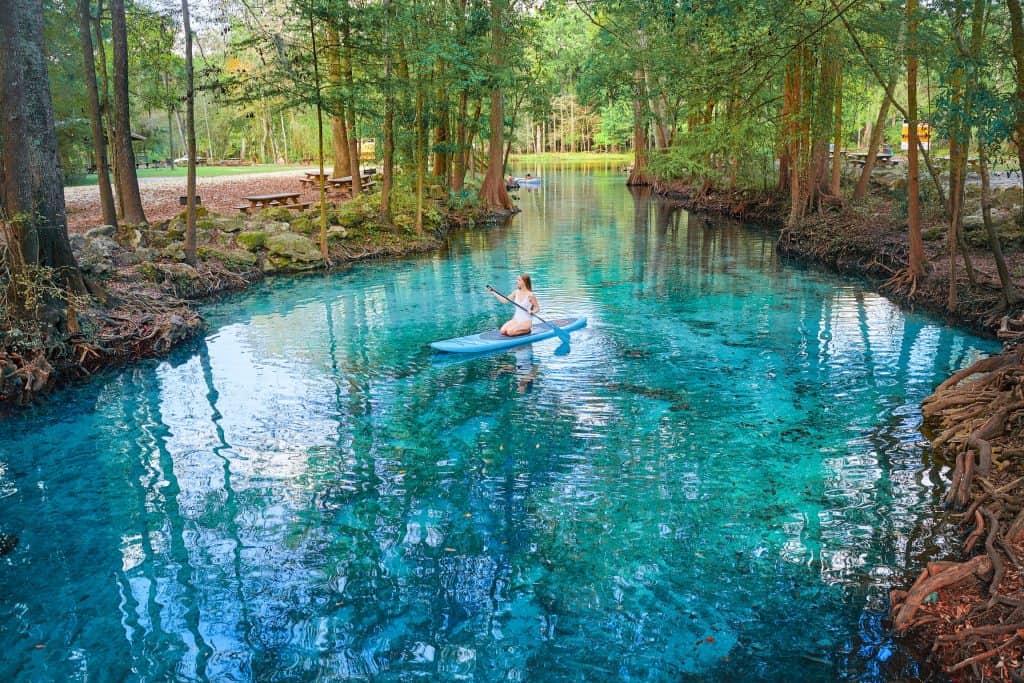 Unfortunately because of Tampa's geography, there are no natural springs in the city's immediate vicinity. While each of these springs will require you to get in your car, the drive will be absolutely worth it. Any of these sites make a perfect day trip from Tampa!
When you visit natural springs near Tampa, try not to get overwhelmed by the recreation offered: tubing, diving, snorkeling, swimming, kayaking, photography, and even glass-bottom boat tours. Let's not forget that springs are a perfect place to see Florida's native wildlife, especially manatees!
The views are always spectacularly beautiful, so hop in the car, set your GPS, and head out to the most beautiful springs near Tampa. We promise, you won't regret it!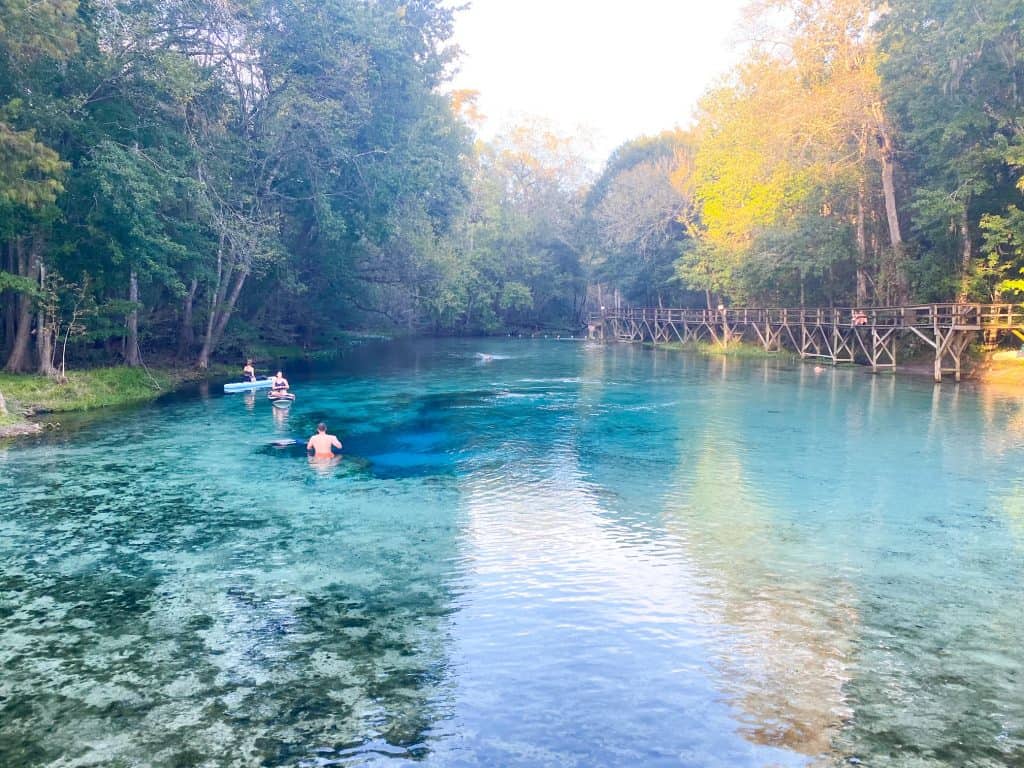 10 Natural Springs Near Tampa You Must Visit
Weeki Wachee
Natural springs are beautiful escapes, perfect to unplug from reality. If you want a little whimsy in your adventure, have no fear! At the closest springs near Tampa only 56 minutes away, you can meet a real, live mermaid!
Okay, mermaids are make-believe, but the swimmers that don the incandescent fins only add to the beauty of Weeki Wachee Paying homage to the yesteryear of Florida tourism, you'll get lost in the magic of their underwater dance.
Weeki Wachee is also a great destination for families! The springs are also home to Buccaneer Bay, the only water park fed by a first-magnitude spring.
While swimmers can bask in the beautiful blues and greens of the Florida natural springs, divers can explore the freshwater cave system, confirmed in 2007 to be the deepest in all of North America.
In addition to the perfect day trip, the natural beauty of Weeki Wachee makes a beautiful backdrop for events hosted within the state park, such as weddings and family gatherings, with a range of indoor and outdoor pavilions.
When you visit Weeki Wachee, parking is free! Tickets run $13 for adults and $8 for kids ages 6-12. Kids five and under are free!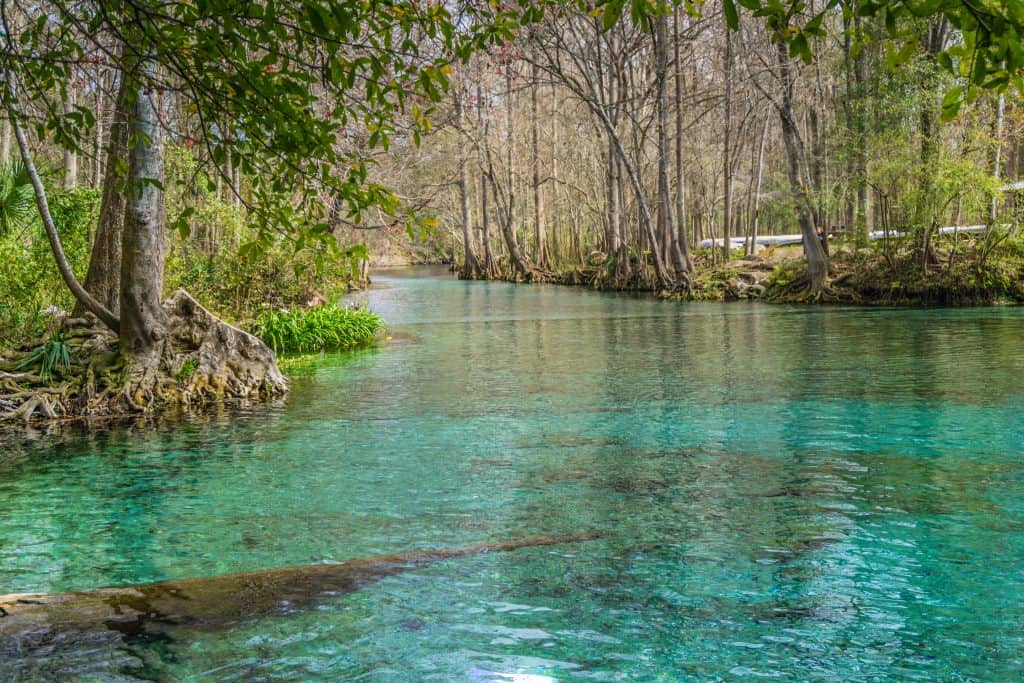 Rainbow Springs
With such an enchanting name, it's no surprise that Rainbow River is home to a variety of natural wonders. Only 1 hour and 36 minutes away, Rainbow Springs is one of the best springs near Tampa.
Its history spans back centuries when native Floridians regularly visited these sapphire waters, believed to have magical healing powers.
Whether you choose to believe that or not, you undoubtedly will bask in the natural Florida spring's beauty with endless experiences and amenities. At the headspring of the river is a gigantic swimming area with white sand and limestone underneath your toes.
Rainbow Springs also has some of the best hiking trails in Florida! Walk through man-made waterfalls and natural gardens, a popular destination for Florida Birders.
Campgrounds along the river have kayaks and canoes for rent, so you can see the tall oaks that line the riverbanks. Areas of the river are dedicated to tubing down this natural "lazy" river.
Jump off of docks or swing off of ropes tied to tree limbs. You will share the water with turtles, basking in the sun on logs while heron and blue ibis flutter by.
Entry to Rainbow River State Park only costs $2 per person. Tube rental and tram access cost $20 per person.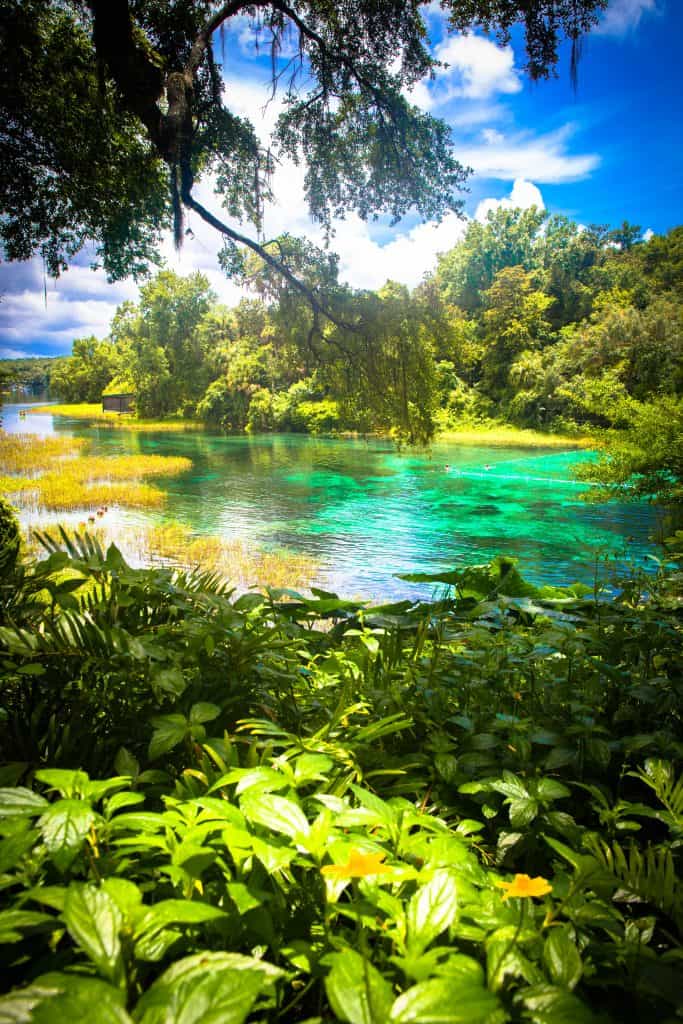 Three Sisters Springs
Just about 90 minutes north of Tampa Bay, Three Sisters Springs is actually part of a large network of about 40 natural springs called Crystal River.
Three Sister Springs originates in King's Bay before emptying into the Gulf of Mexico. Only accessible by boat access, these springs near Tampa have earned their nickname as a "water lover's paradise" with a multitude of activities and wildlife to see.
If you head to Three Sister Springs, you can spot wild manatees at the Florida Manatee Festival! This is one of the few places you can still swim with these magnificent creatures.
The festival usually runs during a weekend in January, one of the best times to see manatees. At this time, manatees migrate from rivers to natural springs to keep warm during the winter months. While they're here, jump in the water and celebrate!
If you don't want to jump in the chilly waters, you can still enjoy other in-water recreation! Try launching a glass-bottom boat or kayak to get a view uninhibited view of the springs!
General Admission to Three Sister Springs includes one-day access to the springs near Tampa, but annual passes are available! During the summer months, adult tickets are $12.50 but $20 in the winter. Children 6-15 pay $7.50 year round while children under 5 are always free.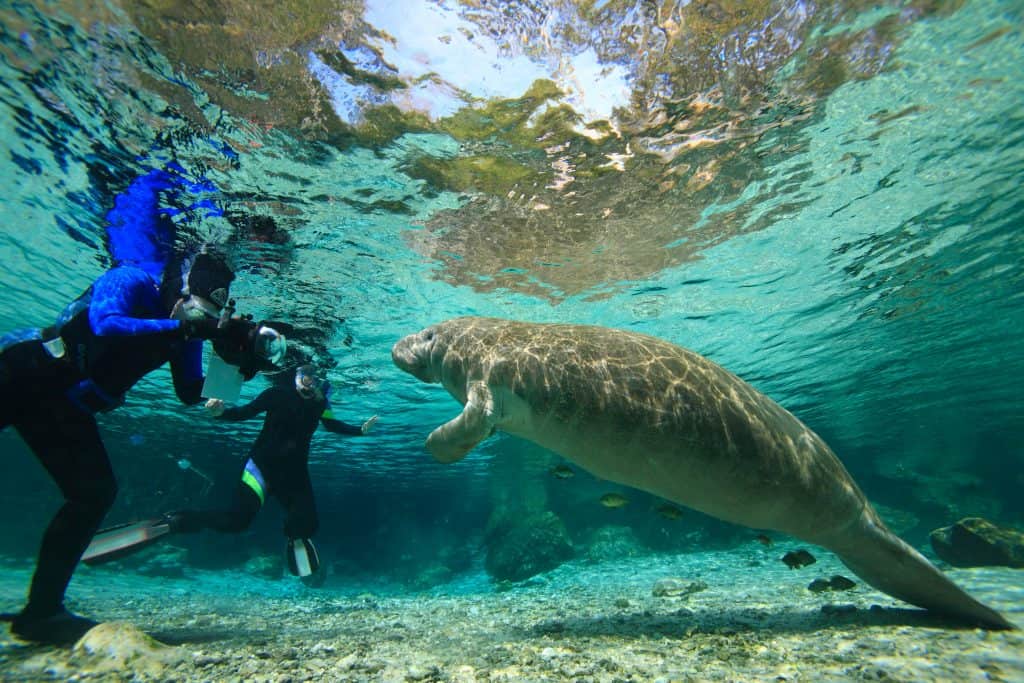 Kelly Park/Rock Springs
The free-flowing springs at Rock Springs at Kelly Park are a bit cooler than its counterparts, usually topping out at a chilly 68 degrees, making this destination perfect for the hottest of Florida summers.
It can get confusing, so let's clarify. Kelly Park is the name of the nature park. Here you'll find over 7 miles of hiking trails to enjoy! Rock Springs is the name of the springs near Tampa whose headwaters are found in Kelly Park.
Kelly Park, located in the middle of Apopka, is only 1 hour and 32 minutes away from Tampa. It's proximity to Orlando attractions make it a great day trip, especially if you're sick of theme parks.
Tubers can rejoice while floating through mangroves, and looking at the fish and turtles sharing the water with them. You can also take a canoe or a glass-bottom boat down the river until it opens up into an open swimming area.
Campers can also enjoy the grounds with lots of RV parking, pavilions, and nature trails. This is one of the best springs in Florida for quiet picnics with the family or a loved one!
Admission to Rock Springs is $3 per vehicle for 1-2 people; $5 per vehicle for 3-8 people; and $1 for additional person/walk-ins/motorcycles/bikes. Kayak/Canoe/Paddle Board Launch at Kelly Park's Camp Joy runs $3 for 1-2 people; $5 for 3-8 people; and $1 for each additional person.
READ NEXT: Tips For Rock Springs At Kelly Park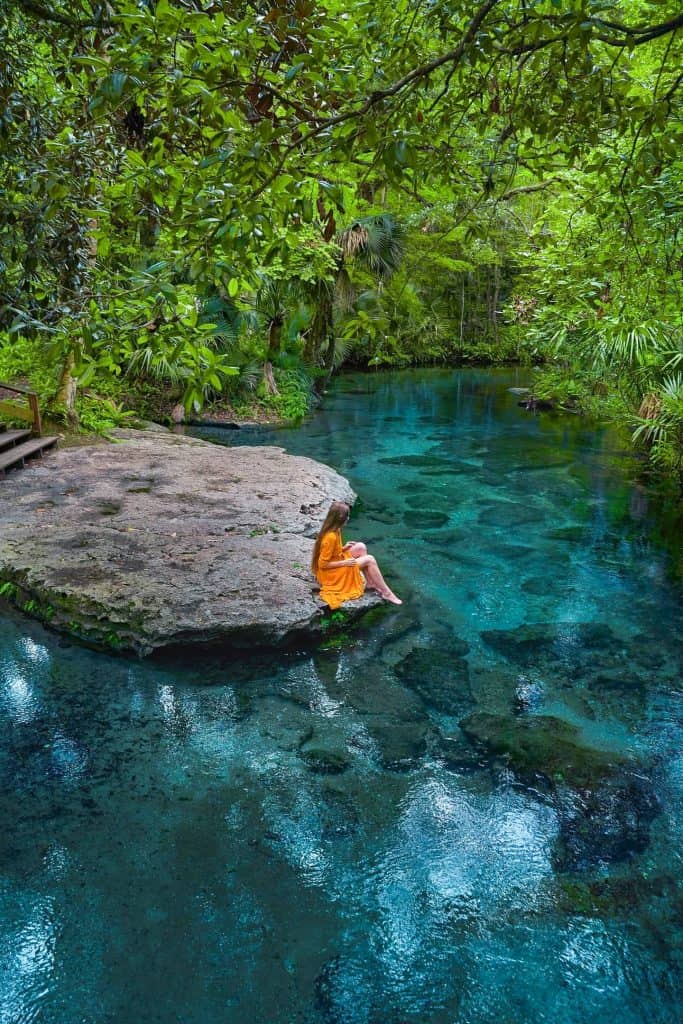 Wekiwa Springs
With natural wonders just 1 hour and 33 minutes away from Tampa, Wekiwa Springs makes the perfect escape. One of the most unique State Parks in Florida, you can beat the heat of its relaxing emerald waters!
Right next to Rock Springs in Kelly Park, Wekiwa Springs is Orange County's longest-running tourist attraction. With miles of hiking trails waiting to be explored on foot, bike, or horseback, you understand why it's beloved by locals since the early 19th century.
Through the dense hammocks, you can take a canoe passing the purple blooms of pickerelweed. When exploring the spring vent which feeds the Wekiwa River, you'll see a variety of Florida wildlife.
When you jump in the spring to swim or snorkel, be advised there is no lifeguard on duty. The springs near Tampa are 4 feet at its deepest, so no jumping or diving is allowed. You can also find a swim life for ADA accessibility!
Entrance fees are just $2.00 per person, per day! Canoe and kayak rentals are available at the concession stand. Guided trips and shuttles are also available if you're looking for a more organized outing.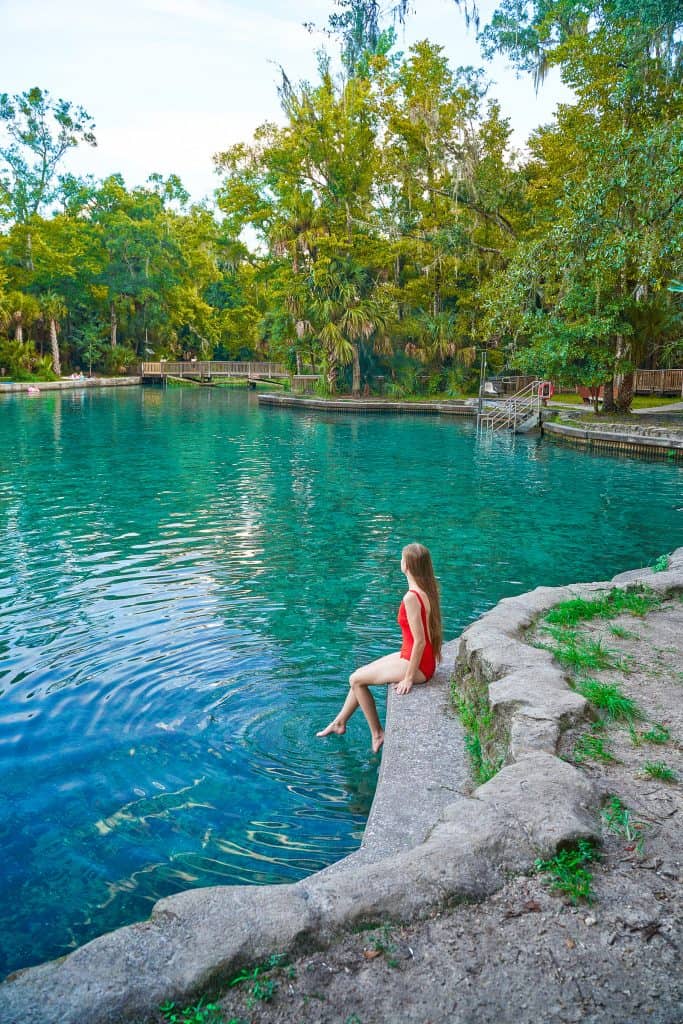 Devil's Den
Located just north of Ocala in Central Florida, Devil's Den is actually underground. Only 1 hour and 49 minutes away from Tampa, Devil's Den is the most prehistoric of Florida springs, a perfect spot for divers and snorkelers alike.
Visitors walk down a wooden staircase into a cavern that appears to open up into another ethereal world. Divers can descend up to 54 feet in the springs (120 feet in diameter) to look through the clear, aqua water which is always 72 degrees, making it one of the best springs in Florida.
The grounds of Devil's Den also boasts cabins and RV parking with a heated swimming pool, charcoal grills and picnic tables, nature trails, and pavilions with lawn games for the whole family to enjoy! Offering something for everyone in the family, Devil's Den is truly one of Florida's prettiest and mysterious springs.
Each person needs a mask, snorkel, and fins to swim in Devil's Den. You can either bring your own or rent them for an additional $10. If you only need one of the three required items, the cost is only $4 per item.
Admission is $15 per person Monday through Friday, and $22 per person on holidays and weekends. Admission does not cover the equipment rental cost. Currently, all visits must be reserved in advance and are limited to 90 minutes.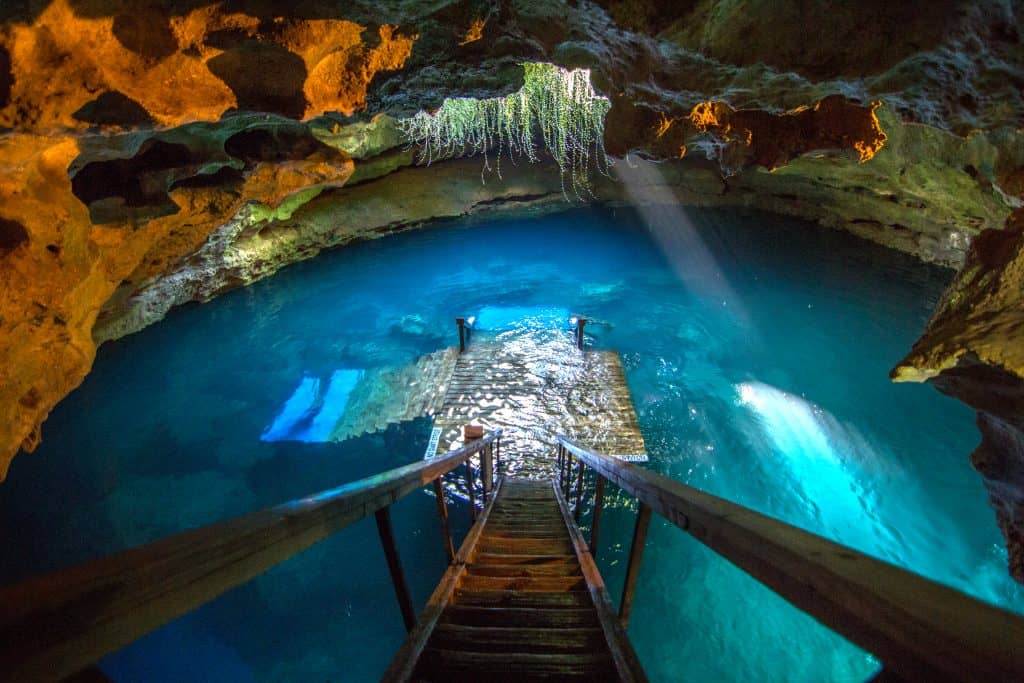 Gilchrist Blue Springs
Florida's newest state park, Gilchrist Blue pours out 44 million gallons of fresh water out of its second magnitude spring before flowing out in a shallow spring close to the Santa Fe River. The waters, lying along floodplains in the area, boosts and supports a wide variety of ecological habitats.
If you drive about 2 hours and 25 minutes away from Tampa, you can swim in the clear waters along with a wide variety of native fish, turtles, and invertebrates that call this set of natural springs in Florida home.
It is recommended that visitors arrive early in the morning, as capacity is limited, and you will be turned away! Patrons can participate in snorkeling, swimming, and paddling at the main springhead and on the spring run.
Gilchrist Blue Springs also has a series of hiking trails popular for Geocaching, an outdoor treasure hunt game where players find caches hidden in nature using coordinates and global positioning systems (GPS) devices.
With so much to offer and so much wildlife to see, it's no wonder that Gilchrist Blue is one of the best springs near Tampa, one of the greatest hidden Florida gems rightly deserving of its new state park status.
Gilchrist Blue Springs State Park is open from 8 a.m. until sundown, 365 days a year. Admission is $4 for a single-occupant vehicle, $6 per vehicle with 2-8 passengers, and $2 for pedestrians, bicyclists, extra passengers, and passengers in a vehicle with an Annual Individual Entrance Pass.
If you visit, check out our post on Tips For Gilchrist Blue Springs!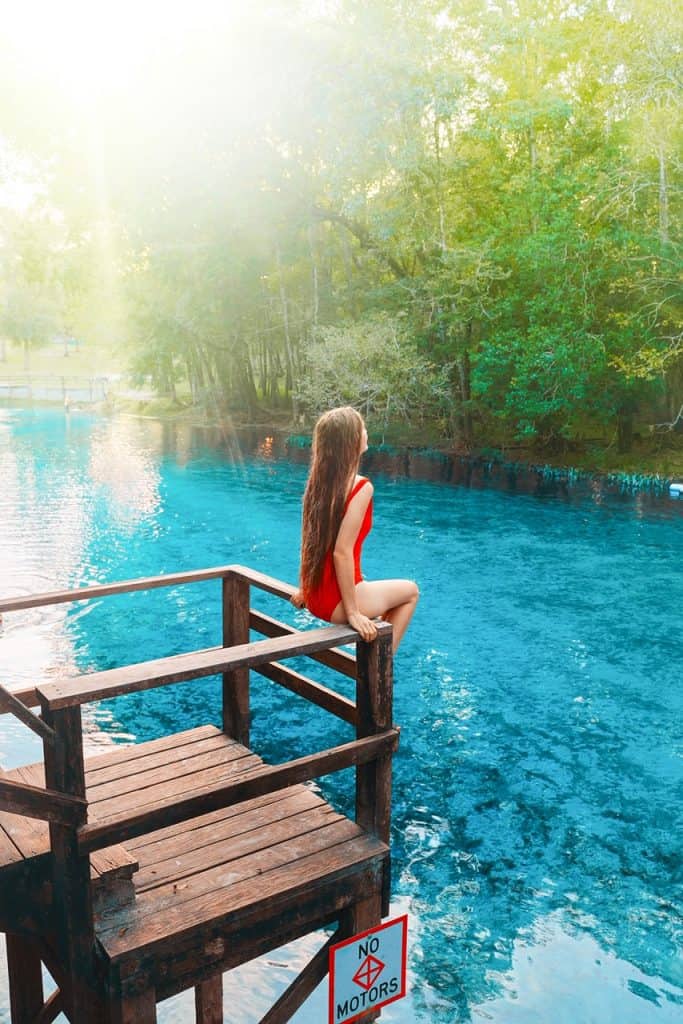 Ginnie Springs
Along the Santa Fe River lies a true slice of pure Florida. Ginnie Springs boasts some of the clearest waters of all the natural springs near Tampa, only 2 hours and 16 minutes away.
Made up of a group of seven springs, white sand, and limestone wind into paths that open into caves, making Ginnie Springs a must for any serious cave divers or snorkelers.
Visitors can enjoy tubing, kayaking, canoeing, and swimming in addition to campgrounds with picnic tables, grills, and volleyball courts! If you want to stay longer, there is a rental cottage available to make the most of your time in one of the best springs in Florida.
If you decide to snorkel or paddleboat down the Florida springs, the clear water may reward you with a view of bass, catfish, mullet and if you're lucky: turtles.
Admission for adults is $14.02 Sunday through Wednesday, and $19.40 Thursday through Saturday. Children ages 6-12 pay $3.73, while children 5 and under are admitted for free.
Before you go, read our post on Tips For Visiting Ginnie Springs.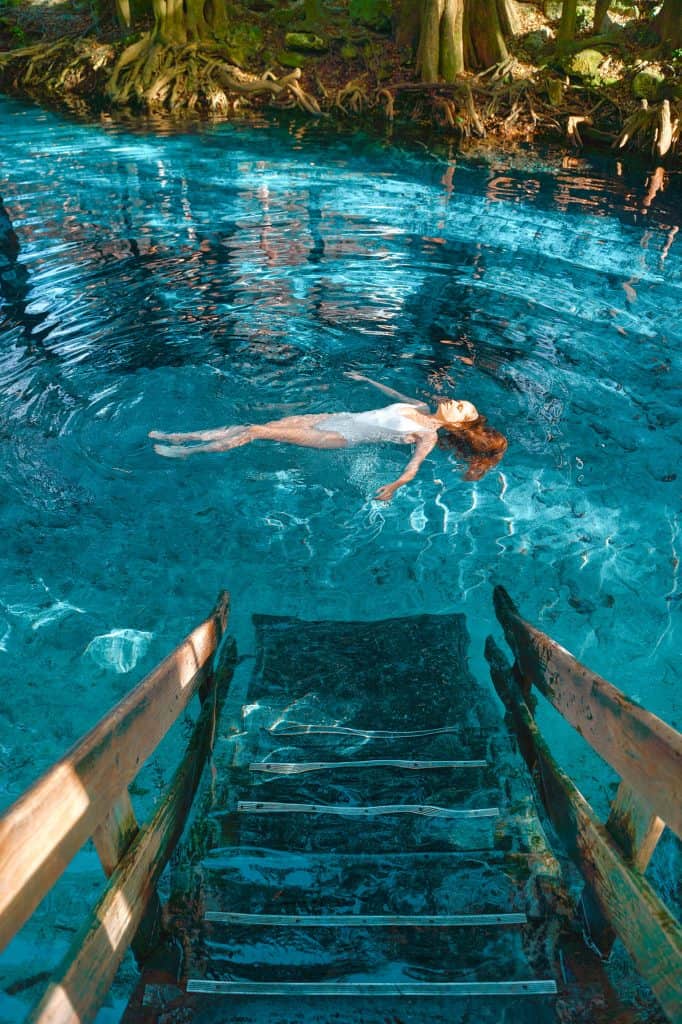 Juniper Springs
In scenic Ocala National Forest, Juniper Springs is tucked away in a subtropical area of palm and oak trees before winding and emptying into Lake George in the Saint Johns River. Just under two hours away, Juniper Springs is one of the best springs near Tampa.
The main springhead is perfect for swimming, snorkeling, paddling, bird watching, and picnicking. Hikers can easily spend all day traversing the statewide Florida trail that winds through the area, with information about the sub-tropical foliage.
The seven-mile Juniper Springs run is considered to be one of the most beautiful and scenic routes for kayakers in the entire state of Florida. Dappled sunlight peeks in through the towering oaks, while otters play and alligators drift along in the shallow waters. There is even a haul-back service offered for your canoes and kayaks if you want to experience it all over again–without the hassle.
Considering the historic campgrounds and RV parking among the amenities available, it's easy to turn a lazy day at one of the best springs near Tampa into a relaxing evening for the entire family in the heart of nature.
Admission to Juniper Springs is $6 per person, per day. If you are camping, overnight parking is $10 in addition to $22 per site.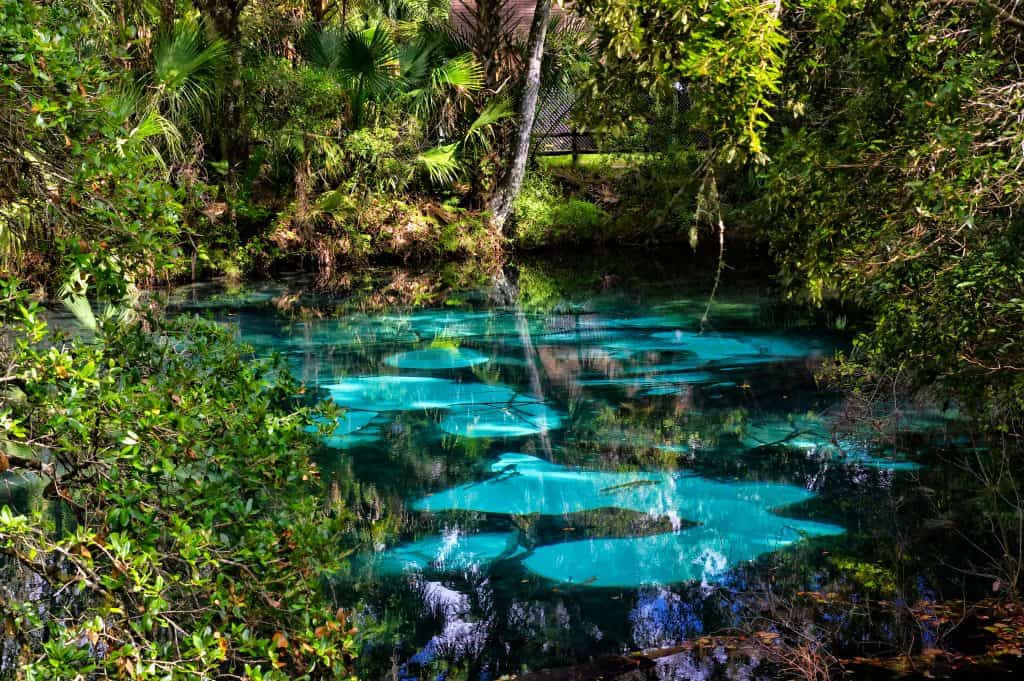 Silver Springs
Only 1 hour and 38 minutes away from Tampa, the allure of its name doesn't lie. Pine, oak, and cedar trees surround the quaint, aquamarine waters of Silver Springs, perfect for swimming, snorkeling, and sunbathing.
A variety of freshwater and saltwater fish call this spring home, along with manatees seeking solace from the cold, winter waters of the Saint Johns River. Make sure never to approach manatees, let them come to you!
Hikers traversing the Spring Boils trail will be able to spy many smaller springs bubbling up and feeding into the streams that empty into Lake George. Fishing, with a suitable freshwater license, of course, is permitted downstream of the swimming hole area.
Also located in Ocala National Forest, this beautiful Florida spring is also a notable archeological site! Those with a keen eye will be able to spot a variety of fossilised snail shells embedded in the middens along the shores.
Visitors are encouraged to arrive early in the day, as capacity is limited! Admission is $5 per single-occupant vehicle, $8 per vehicle with 2-8 passengers, and $2 for pedestrians, bicyclists, extra passengers, and passengers in vehicle with an Annual Individual Entrance Pass.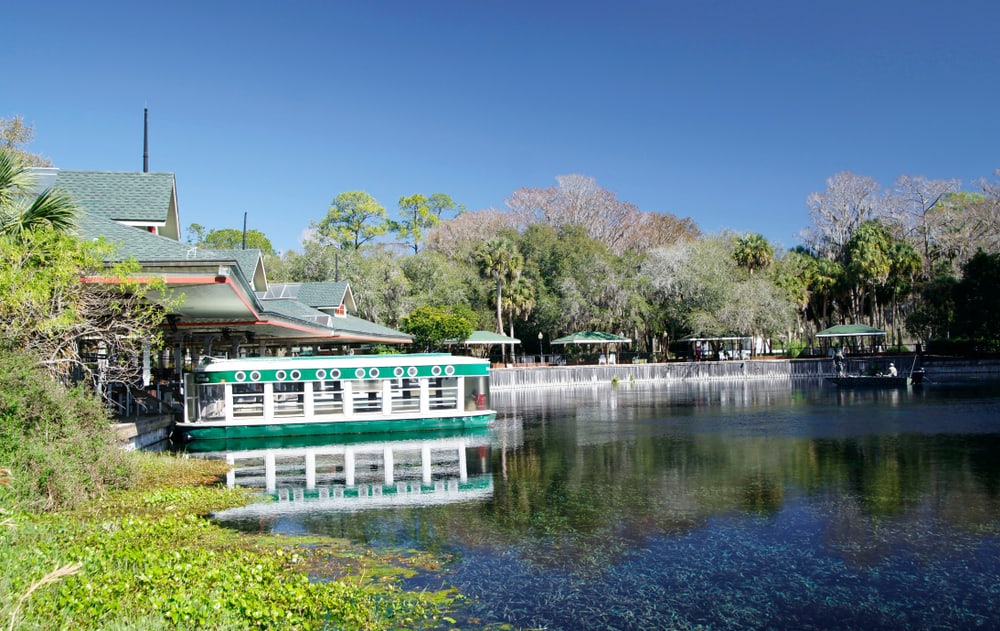 Ichetucknee Springs
North of Gainesville, eight major crystalline springs unite to form the Ichetucknee River, one of the best springs near Tampa. Only 2 hours and 30 minutes away, pack up the car and get ready for a gorgeous day out!
If you want a relaxing day, you can canoe, kayak, or go tubing in the upper region of the area of the state park, where the pristine waters will gently carry you down the Ichetucknee River. Scuba divers and snorkelers can find a bit more adventure through the waterways.
Hikers can choose one of three hiking trails, with entrances at the north of the river: the tame Blue Hole trail that leads to the Blue Hole Spring, the largest in the park, or the intermediate Tressle Point trail, a self-guiding trail that looks on areas where in the past phosphate ore was mined.
Admission to Ichetucknee Springs is $4 for a single occupant vehicle, $6 per vehicle with 2-8 passengers, and $2 for pedestrians, bicyclists, extra passengers, and passengers in vehicle with an Annual Individual Entrance Pass.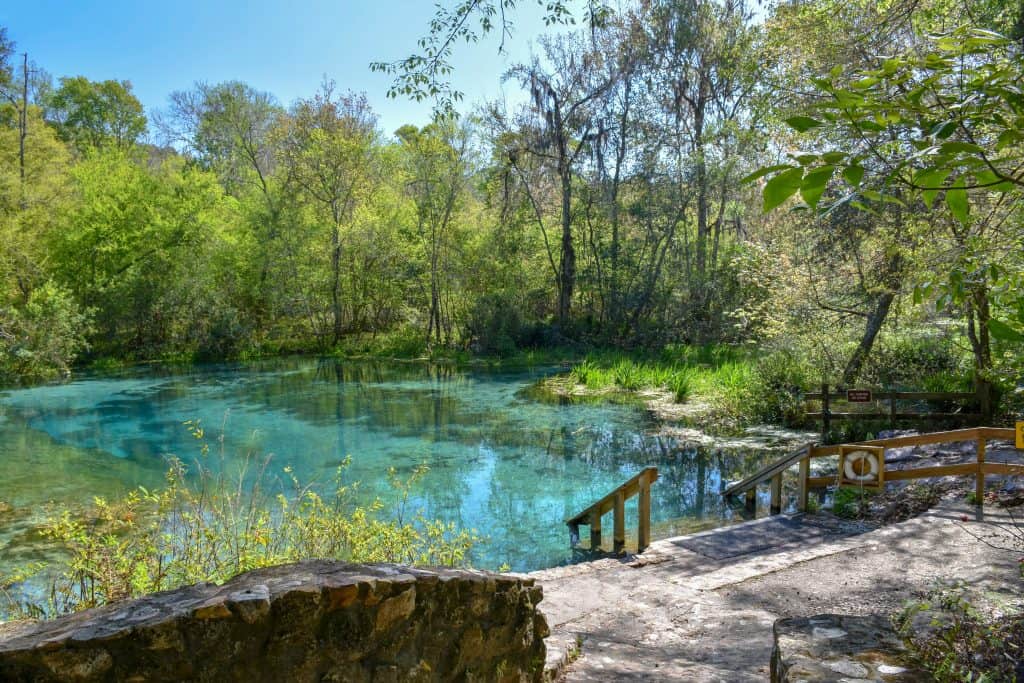 Did You Find This Post Helpful?
If so, we would love to keep in touch! We enjoy seeing photos and comments about your experiences in Florida! You can follow us on Instagram and we will repost your photos on our feed and comment too! Just tag us at @floridatrippers and hashtag #floridatrippers. We can't wait to see your travels!