Are you looking into a relaxing getaway to one of the best beaches in Fort Myers? If you're ready to explore one of the most beautiful places on the Florida coast, this is the article for you! This article is curated to include only the best of Fort Myers, so get ready to pack your bags and head to this great spot on the Florida Gulf coast!
A trip to the beaches in Fort Myers includes relaxing in the sunshine, thrilling hunts for some of the worlds most rare and beautiful seashells, and opportunities for encountering the elusive Florida wildlife. The beaches in Fort Myers are nestled on the Gulf coast of Florida, only 2-3 hours from Florida hotspots such as Tampa and Orlando, respectively, making the Fort Myers beaches an accessible paradise, easily reached from these popular locations.
From white sandy island beaches to sparkling rivers surrounded by nature, the beaches near Fort Myers have something everyone is bound to enjoy, and will talk about for years to come.
10 Best Beaches in Fort Myers (And Nearby!)
Fort Myers Beach
Of course when talking about the best beaches in Fort Myers, we must include Fort Myers Beach itself! Fort Myers Beach, covered in soft white sand, is about 7 miles long, and is known for its renowned water sports opportunities.
Coined as the world's safest beach due to the shallow water and the unlikelihood of undertow, this beach welcomes around 1.8 million visitors every year. Visitors enjoy the gorgeous beaches, delicious restaurants, and family fun.
Fort Myers Beach is one of the most popular beaches in the Fort Myers area, and as such, as great opportunities for resorts, nightlife, and plenty of tours. This beach offers many eco-tours such as deep sea fishing and dolphin sightseeing.
Fort Myers Beach is a great place to stay, localized to reach the other incredible beaches in the Fort Myers area! For more ideas of things to do in Fort Myers, check out this article!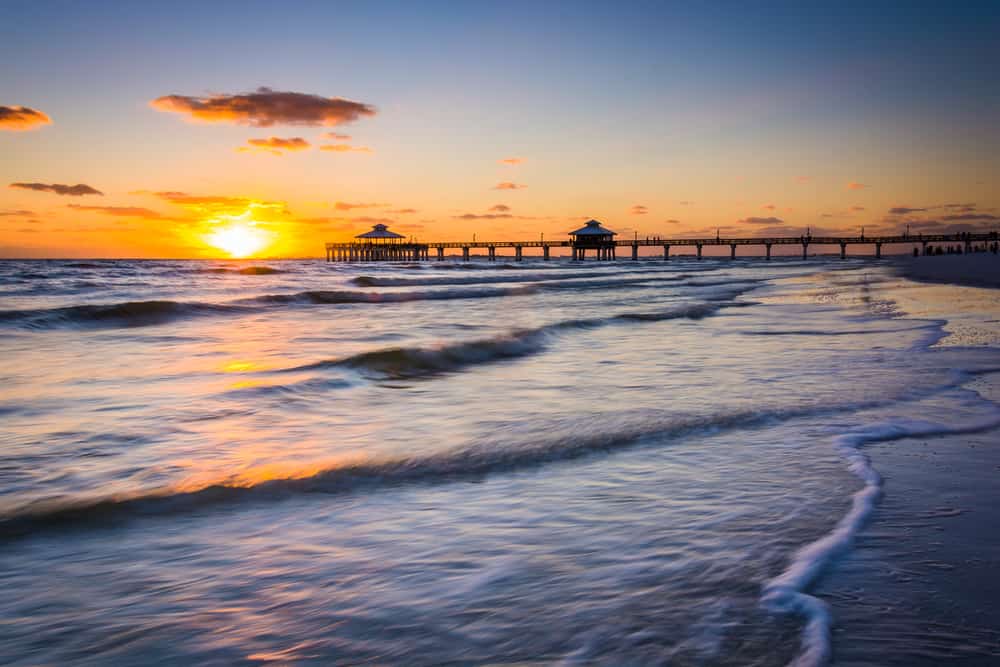 Bunche Beach
Bunche Beach is one of the best beaches in Fort Myers for seashell hunting. While most seashell enthusiasts flock to the shores of Sanibel Island, Bunche Beach is a great alternative that also reaps the benefits of the Gulf tide that brings so many seashells to Sanibel's shores.
The best time to visit is low tide, when the tide is out far enough to search through the seashells on the sand. Florida, horse, crown, and tulip conch shells are quite common to find on this beach, along with sand dollars and coral. It is imperative to remember that is is illegal to take a seashell or any sea-life from a Florida beach if it is alive or has a living creature inside of it!
Unlike many of the other beaches in Fort Myers, Bunche Beach does not have the white, soft sands. The beach is actually a natural tidal wetlands. The area surrounding the beach has waterways surrounded by nature, perfect for canoeing, paddle-boarding, or fishing. The area also provides great opportunities for bird watching, and even manatees are often spotted there.
The beach is accessible, with a parking area, and more parking along the street. There is a pay meter to park near the entrance of the beach. There are a few picnic tables, but no restrooms or other facilities nearby.
If you are looking for a nature-filled day, make sure to head over to Bunche Beach early to reap the benefits of the low tide seashells. Make sure to keep your eyes peeled for the wildlife in the nature surrounding you!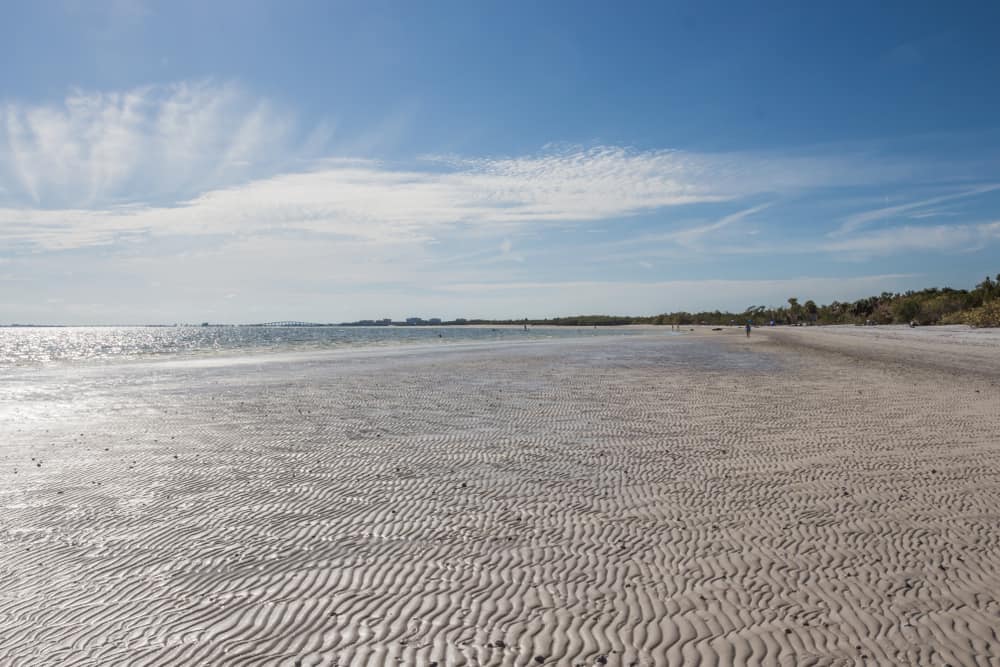 Cayo Costa Preserve
Another great beach for nature lovers and sea shell hunters alike is Cayo Costa Preserve. A visit to this island makes the perfect day trip for anyone looking for a casual day on the beach. Cayo Costa is a Florida state park, reachable only by kayak or boat.
If you're looking to escape some of the crowds that flock to the beaches in Fort Myers, Cayo Costa is the perfect retreat. Take a ferry or kayak to this island with 9 miles of undeveloped beaches. Keep in mind that visitors must bring any wanted food or drink with them as there are no restaurants in the park. There are however, restrooms with running water.
There are many fun activities to enjoy while spending the day on Cayo Costa. The island has several walking and biking trails, great for spotting wildlife such as rare birds. Off the coast, visitors often see manatees, sea turtles, and dolphins. Paddle boarding, snorkeling, and scuba diving are also popular activities amongst visitors.
For visitors looking to get the full experience, the island offers 30 overnight camping sites and even a few one room cabins available for rental. This is a great option for those seeking experiences with wildlife and sea shell hunters as the morning is the most advantageous time to spot both.
Escape the hustle bustle of every day life with a visit to this unspoiled island featuring serene beaches, rare wildlife, and beautiful sea shells.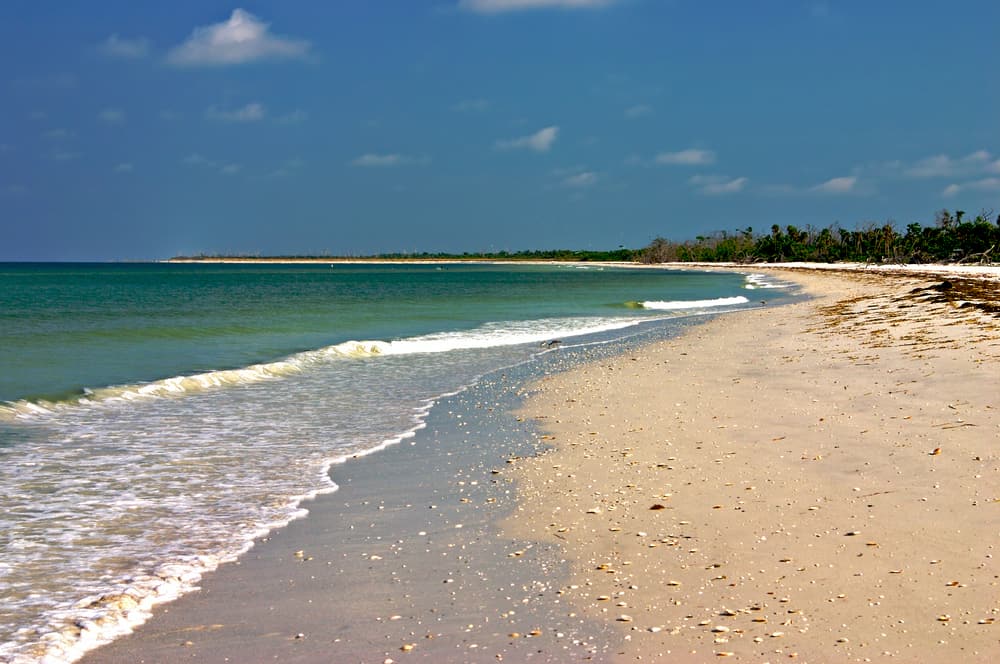 Rotary Park
Great for families and nature lovers alike, Rotary Park Environmental Center is a great excursion while spending time around the beaches in Fort Myers. Rotary Park is located in the neighboring town of Cape Coral, known as the Venice of Florida. The town is arranged around canals leading to the Gulf.
The park offers a variety of activities including several nature trails. One of these trails is part of the Great Florida Birding Trail, and is perfect for spotting wildlife such as birds, tortoises, and alligators. Be prepared to bring bug spray, because some of these trails go through marshland that, although beautiful, attracts mosquitos. Rotary Park offers a few wheelchair friendly trails as well, perfect for the entire family!
In addition to great nature trails, this park offers many programs and classes such as yoga, gardening, and nature camps. Also offered, are playgrounds and dog parks, making Rotary Park a perfect excursion for the family.
Lovers Key State Park
This state park lives up to its name by being one of the most romantic beaches in the Fort Myers area. Lovers Key State Park is best known for its perfect scenery for Gulf coast weddings. It's also a popular honeymoon and romantic getaway destination.
With its serene, turquoise blue waters, it's not hard to understand how this beach became known for love and romance. In fact, the beach was supposed to be sold for beach-front real estate, but was ultimately donated to the people of Florida to be admired and enjoyed by all.
While one of the best things to do at Lovers Key State Park is to lie back, relax, and spend time with those you love on the beautiful Gulf waters, the park also has lagoons and canals to explore, teeming with wildlife.
The park offers all the amenities needed for a relaxing experience including parking, trams to the beach, and elevated boardwalks. In addition, beach wheelchairs can be rented for free to ensure every guest is able to experience the beauty of the beach. There are also restrooms and a picnic pavillion. Grab your loved ones and head to one of the most romantic beaches near Fort Myers for some relaxation in the sun.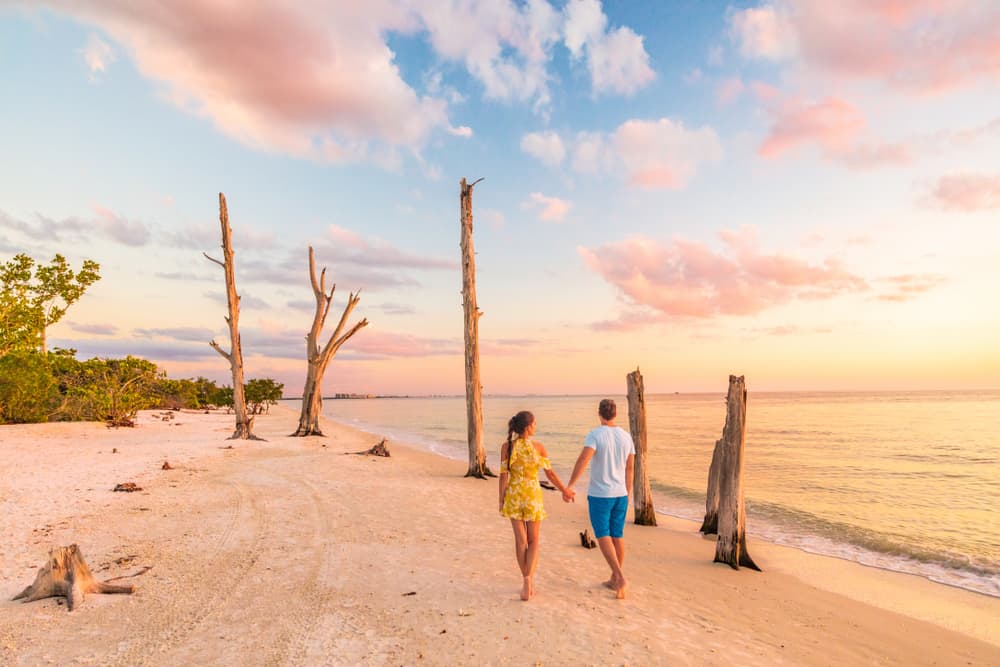 Outrigger Beach Resort
For a bit of paradise, make sure to put a stay at the Outrigger Beach Resort on your itinerary while visiting the beaches in Fort Myers. Outrigger is located beachfront on Fort Myers Beach, and is a family friendly paradise. The resort offers two restaurants, a tiki bar, and and daily performances of live music!
In addition, the resort offers plenty of on site activity for all ages. Enjoy the heated outdoor pool that boasts a delicious cafe, with snacks and drinks brought right to you while you are lounging. For a little more adventure, the resort hosts are readily available to reserve time on the water in any of the thrilling water sports excursions such as parasailing and jet skiing.
The Outrigger Beach Resort offers as many activities outside the resort as it does inside. Guests of the resort are welcome to beach cabanas, and are encouraged to set up beach games such as volleyball. Guests can also enjoy the Fort Myers night life by taking the Fort Myers Beach Trolley that makes stops all along the Estero Boulevard to great attractions.
For a relaxing and equally fun filled stay during your time at the beaches in the Fort Myers area, the Outrigger Beach Resort is a great option that is great for every family.
Lani Kai
For another slice of paradise in the beaches of Fort Myers, Lani Kai is another great beachfront resort. The same family has owned and operated this iconic resort for over 40 years.
Every room in the resort offers a great view, complete with a private balcony. Guests are sure to enjoy the heated pool, equipped with loungers. The resort also offers beachside loungers for the ultimate day of relaxation.
To feel like royalty, the resort offers airport pickup and drop-off in their stretch limo! For even more luxury, check out the Bay Inn at Lani Kai, a secondary location that is the perfect oasis for guests.
Causeway Beaches
For a truly unique experience in the Fort Myers area, head to the Causeway Beaches. These beaches surround the Causeway SR/CR 867 leading to Sanibel Island. Here, visitors enjoy pristine fishing conditions as well as paddle boarding and kayaking.
The Causeway beaches are also a great place to see wildlife such as dolphin pods and manatees. The beaches offer restrooms and a picnic area, and are dog friendly.
These beaches make a great stop on any visitors journey to Sanibel Island!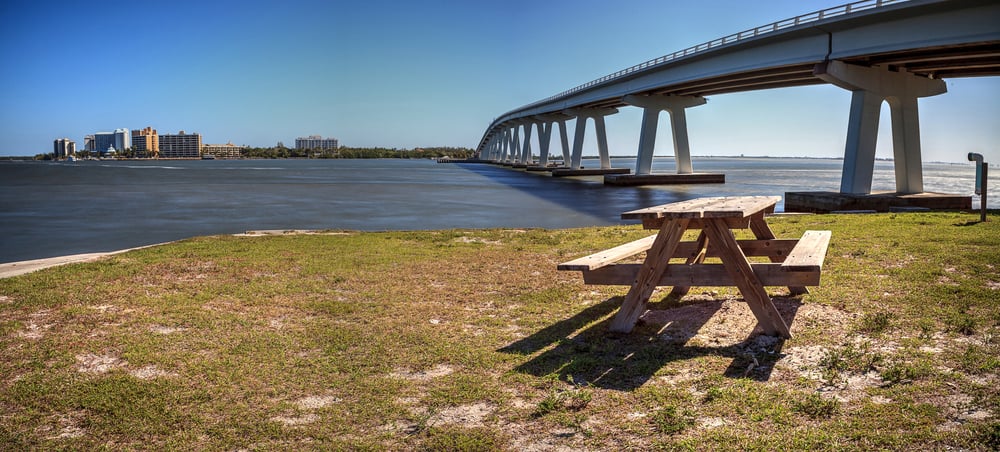 Sanibel Island
Some of the best known beaches in the Fort Myers area are the beaches on Sanibel Island. The island is perfectly positioned in the Gulf coast, and the tides wash up rare and gorgeous sea shells on the beaches. Visitors flock to these beaches for this reason, and oftentimes find some incredible treasures!
In addition to seashells, Sanibel Island is famed for its lighthouses. The Sanibel Island Lighthouse, located on the east side of the island, has been standing on the island since 1884. The lighthouse beach is great for fishing, and even has a fishing pier for visitors to use.
The lighthouse beach is great for shelling, but the currents are a bit stronger here, so weaker swimmers should be careful. There are also restrooms, showers, and water fountains available for the comfort of visitors!
There are so many wonderful shops, restaurants, and resorts on Sanibel Island. For more information on the Sanibel beaches, check out this article on some of the best beaches in Sanibel and Captiva!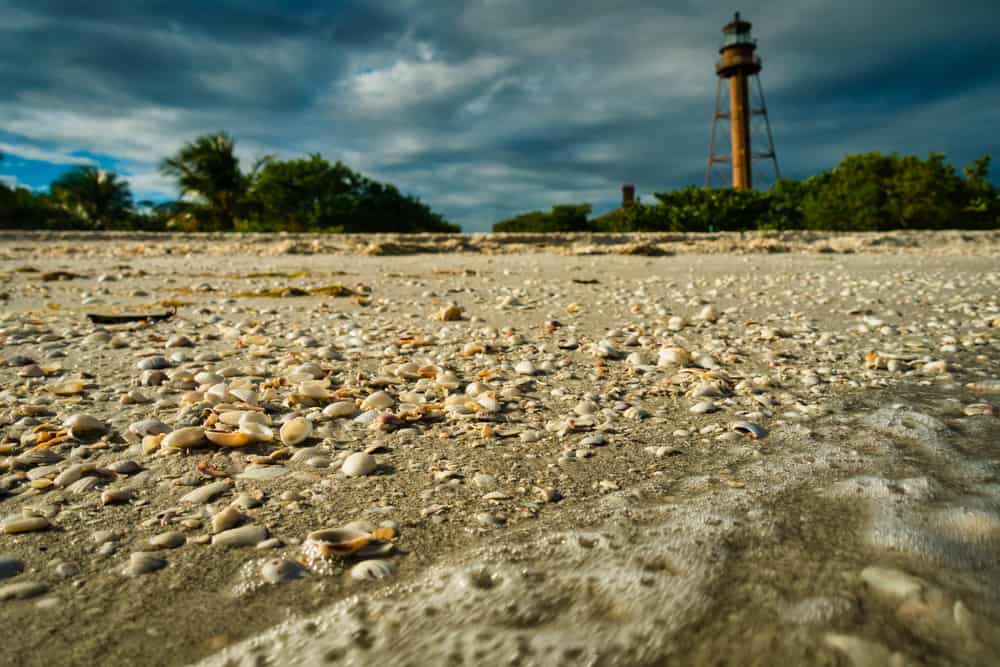 Captiva Island
Just north of Sanibel Island, lies the sister of Sanibel, Captiva Island. Captiva boasts beautiful, serene beaches and a quaint downtown village. Similar to Sanibel, Captiva Island is settled in an east-west orientation, causing over 200 variations of seashells to wash up on the shores.
One of Captiva's most famous beaches is Turner beach. The beach is about 5 miles long, and boasts soft white sands. There are restrooms and parking available! After the bridge on Turner beach, visitors can take the scenic Captiva drive to see beautiful tropical flora and even giant cacti.
Captiva Island is the launching point for many boat tours, including fishing or eco-tourism. Diving and snorkeling are some of the favorite activities amongst visitors and locals alike. Another very popular activity is biking. There are plenty of bike rentals available, and there is no better way to see this island!