If you've ever wanted to enjoy nature fully but hate the grit of camping then glamping in Florida is definitely for you! Don't know where to start? Don't bother getting out the sleeping bags and tents, we're here to help.
Glamping combines the experience of nature with the glamour of home amenities! No more sleeping on the ground and cooking over a fire. We're talking queen beds, air conditioning, and kitchenettes! It's like staying in a mini-hotel in the outdoors!
With options for couples, families, or even just by yourself, you can mix a stay in nature with luxury to get a travel experience that's not-so-touristy. Florida glamping is all about adventuring in style, so (lightly) pack your bags and let's go!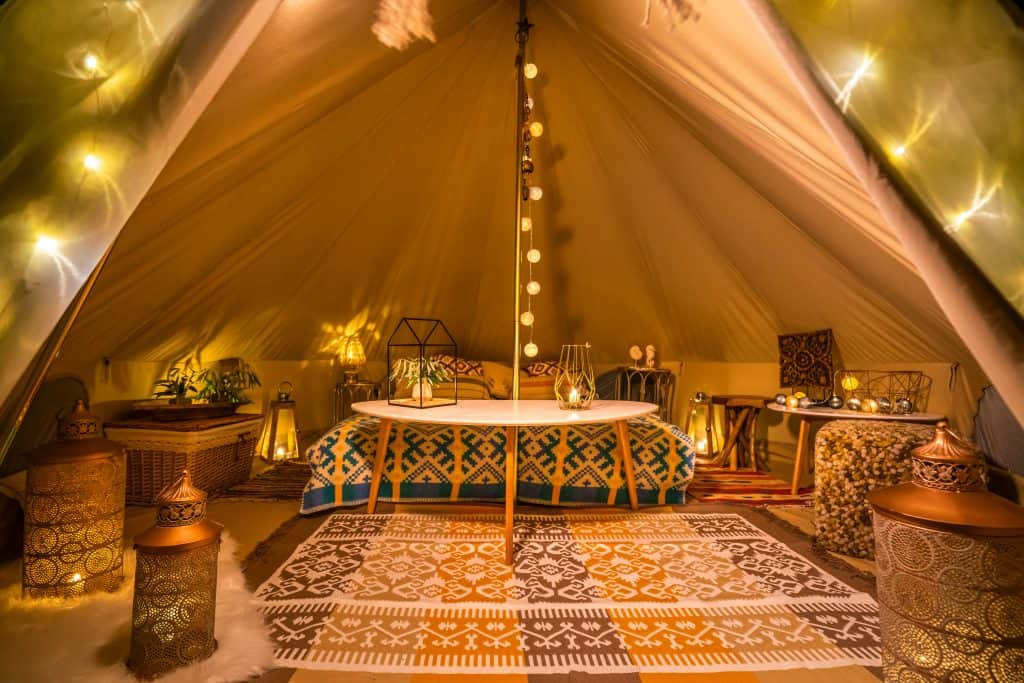 20 Coolest Places For Glamping in Florida
Luxury Camping at Grayton Beach State Park
This cozy 16 foot bell tent is tucked away on SR 30a in Panama City. It is perfect for exploring Grayton Beach State Park and the restaurants, shopping, and activities Panama City has to offer!
A gated park, Grayton Beach State Park is over 2,000 acres with a full mile of white sand beaches. You can also enjoy 4 miles of hiking and biking trails as well as saltwater fishing on the Western Lake.
Inside the tent is a queen mattress, fresh linens, lamps, heating/cooling unit, rugs, with tables and chairs. It also has exterior lighting and two outdoor chairs. It comfortably fits two people, and kids sleeping bags and pillows are provided at no extra cost if needed.
Bring your bike and check out the trails or take a short ride to the town center. Beach glamping has never been this luxurious!
Check Rates: Airbnb.com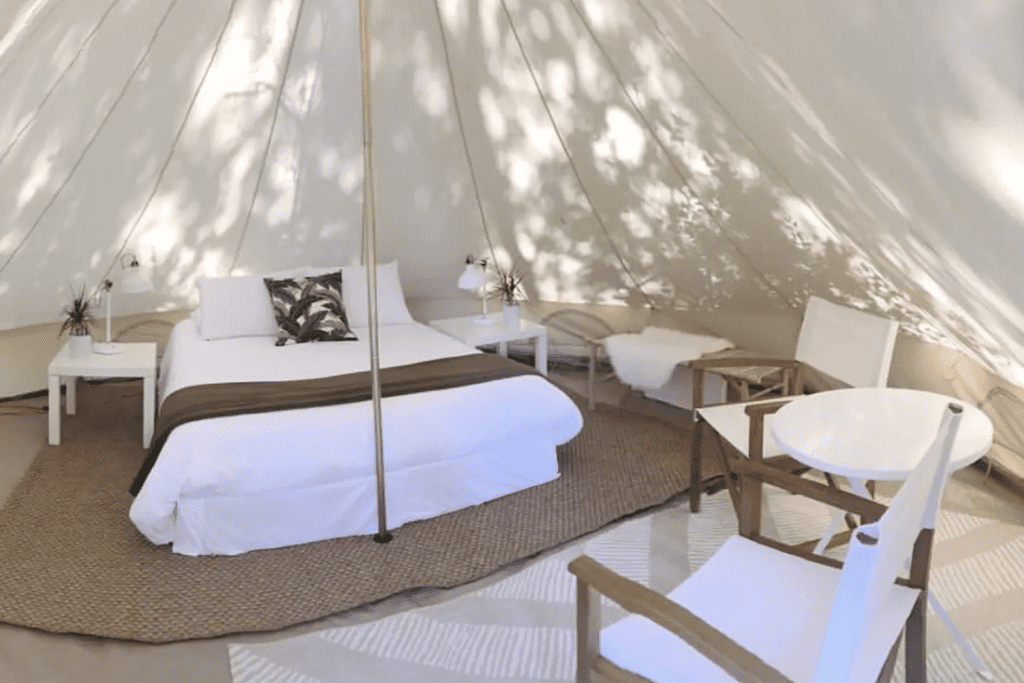 Titi Wasi in the heart of Miami
Titi Wasi means "metal house" in Quechua, the native Peruvian language. This metal house is a brand new 26-foot Airstream Flying Cloud RV ready for you in the heart of Miami!
This is the ideal choice for any type of traveler. Whether you're a weekend wanderer or looking to get away for a few weeks, this is perfect for you! And in the heart of Miami, you're minutes away from establishments downtown!
Titi Wasi is outfitted with a kitchen with oven, fridge and freezer, full bath, queen-size bed, living area, two flatscreen smart TVs, wi-fi internet access, and AC/heating.
In a residential backyard, you have access to a secluded, lush backyard with a barbecue set and patio chaise lounges!
Check Rates: Airbnb.com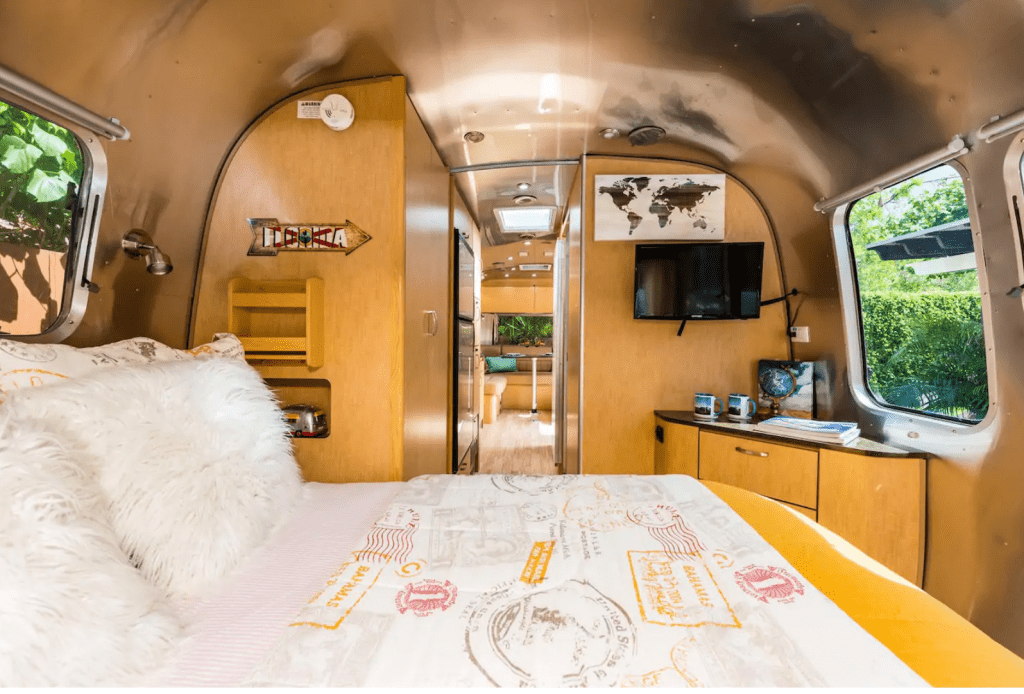 The Ritz
Tiny houses are the new hit way to approach Florida glamping! This tiny house is surprisingly spacious and can house up to five people in its two bedrooms, making it perfect for a short or long stay!
Just on the shores of the Orlando lakefront, The Ritz is part of a tiny home community of 30 houses! It has a full-sized fridge and a glass top stove. Included amenities include fishing, kayaking, paddleboarding, and morning sunrise yoga!
The Ritz is also pet-friendly for an additional fee! Located near downtown, this is a perfect base for all of your Orlando activities and beyond!
Check Rates: Airbnb.com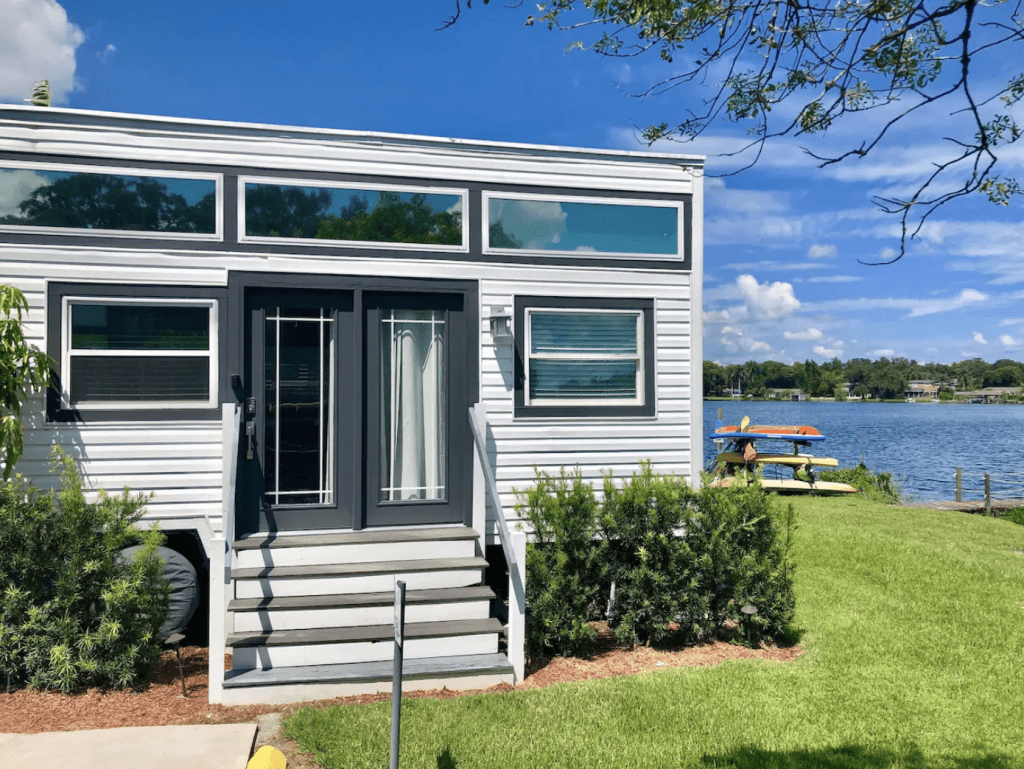 Miss Ruby Lake Glamping
Miss Ruby is a renovated 1965 Vintage camper on Lake Saddleback in Lutz, and she is ready for you to glamp in luxury! Right on lake property, this is a perfect glamping experience for anyone who needs a peaceful getaway filled with solitude.
The camper houses up to 2 guests and has a queen-size bed, TV with Roku, hot plate, microwave, and a french press for quality coffee in the morning. A private bathhouse has running hot water in an open air shower.
During your stay, you have full access to the lake as well as kayaks! There is also a fire pit and grill to enjoy as well as hammocks and lounge chairs.
Surrounded by majestic cypress trees and a lakeside deck, Miss Ruby is waiting for you and your next adventure.
Check Rates: Airbnb.com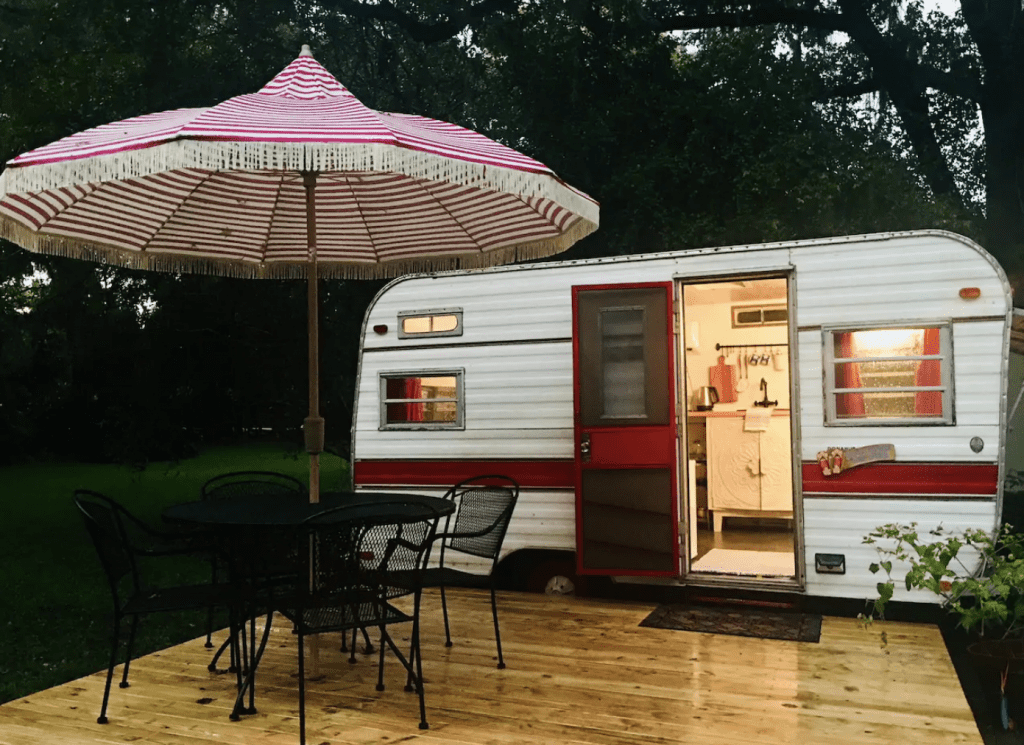 Treehouse Canopy Room
This treehouse getaway is one of the best Airbnbs in Miami! It is one of the most unique glamping experiences. Enjoy your own personal treehouse room with goats, pigs, emus, roosters, and cats as your neighbors downstairs.
Don't bother setting an alarm, the roosters will crow and help you greet your day early in the morning! This quirky room is perfect for anyone wanting to get away from the hustle and bustle of life and just kick back in nature.
The Treehouse Canopy Room houses up to 2 guests with 1 bedroom, 1 bed, 1 shared bath, an outdoor shower with hot water, and a shared kitchen. Kayaking, bike rental, and sailing are all available for a small fee!
Located right next to the Art District, you will be 15 minutes from South Beach, the airport, and all the other attractions Miami has to offer!
Check Rates: Airbnb.com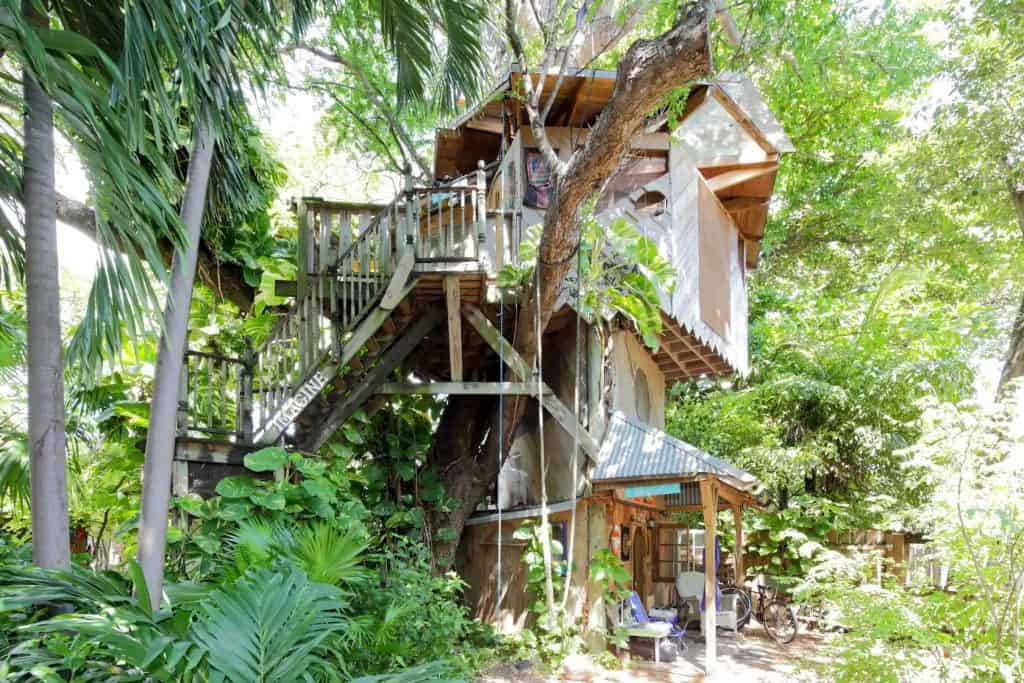 Luxury Glamping at Lake Louisa
This luxury bell tent is over 200 square feet, nestled in Lake Louisa State Park in Clermont! One step inside and you'll think a picture of this site should be listed in the dictionary next to "Florida glamping."
The tent is equipped with a queen-size mattress, AC/heat, and a charging station for electronics. Interior seating is luxurious with throw blankets, cozy pillows, and even a hanging chandelier. 2 twin air mattresses are available for a small fee to accommodate children.
Outside is a private pavilion with a picnic area and barbecue. A private bathhouse is just a short walk away! There is also a fire pit with outdoor seating for two.
The park grounds are available to you 24/7! So whether you're fancying a midnight hike, a sunrise paddle, or a view of the fireworks from Disney, this tent is perfect for you!
Check Rates: Airbnb.com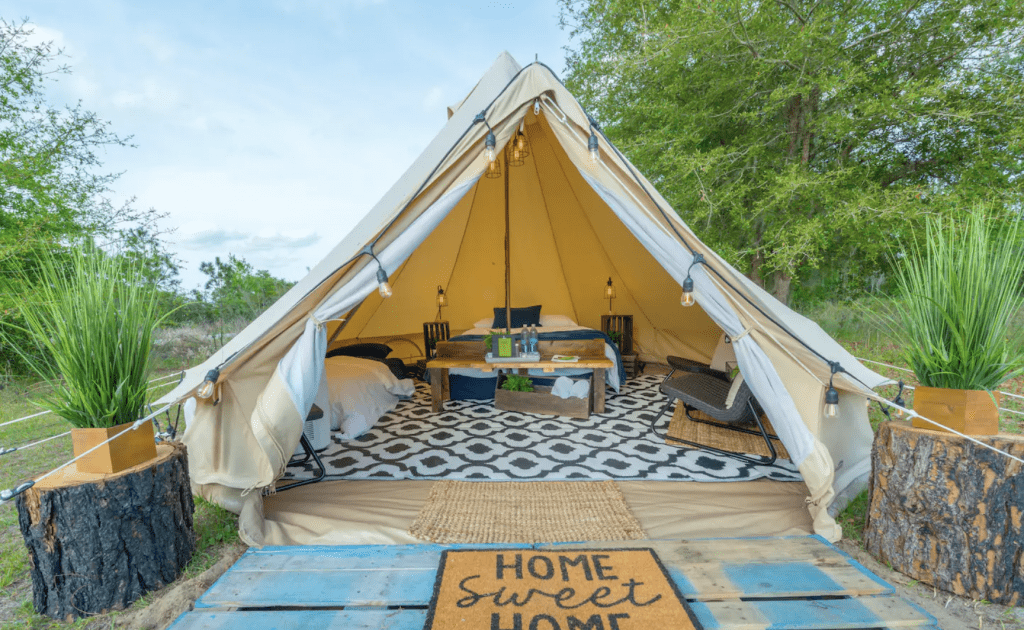 The Birdhouse
Located on the Suwannee River, this Florida glamping site is a quaint open-air building that looks like a birdhouse! This is perfect for those wanting to experience the great outdoors with hiking, fishing, swimming, and kayaking.
Inside the Birdhouse, you'll find 3 beds, a love seat, rocking chair, and a mini fridge. A quaint balcony faces the Suwannee River. With access to a charcoal grill, bring your steaks for grilling!
There is a floating dock on the river, perfect to swim to or fish from. Best yet, this site is minutes away from Madison Blue Springs, one of the best natural springs in Florida!
Check Rates: Airbnb.com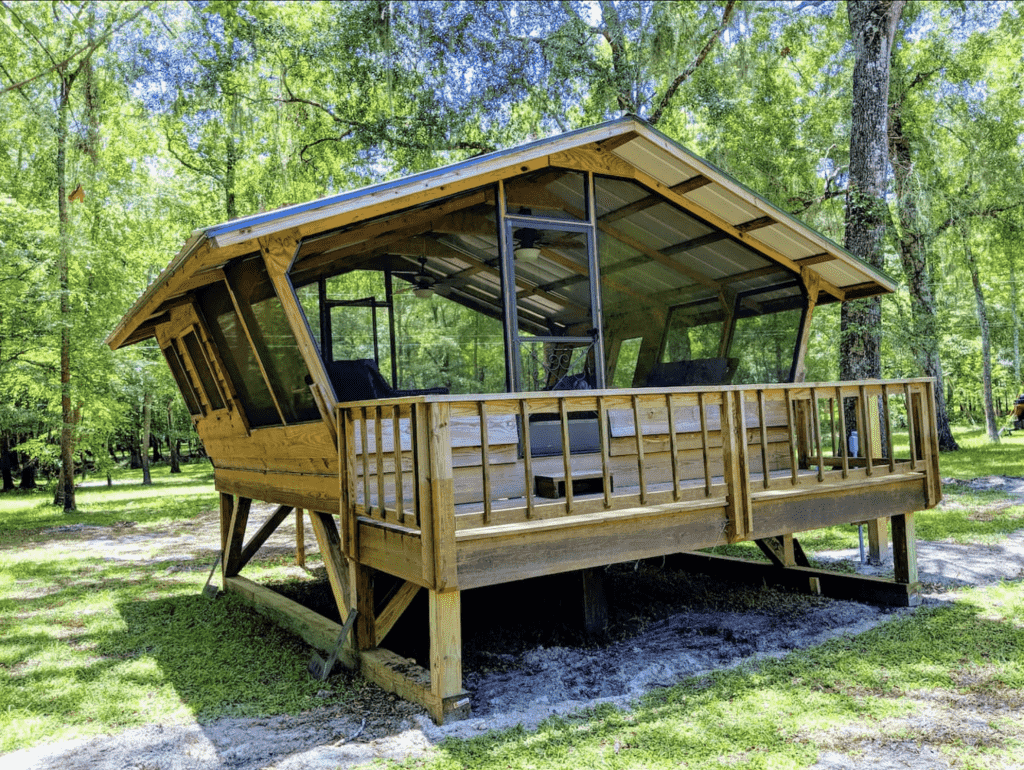 Your Safari Glamping
Your Safari is actually a set of two expedition style tents on wooden platforms capable of holding 2 people each! This is a perfect getaway for a small group looking for hiking, swimming, and fishing and everything outdoorsy.
The main tent houses a queen bed and the adjoining tent has two twin beds. Both are memory foam, and both tents have AC/heating! A bard-style full bathroom is a short walk away with hot water.
Outside, enjoy a fire pit with outdoor seating, a charcoal grill, gas stove and a deck that overlooks the river. The area also has power, so you can bring your devices!
Kayakers will be eager to know that the site is only a five-minute paddle from the Wes Skiles Peacock State Park. If you want to swim with some manatees, you have a chance to see them as the Royal Springs County Park is only a 10-minute drive away!
Check Rates: Airbnb.com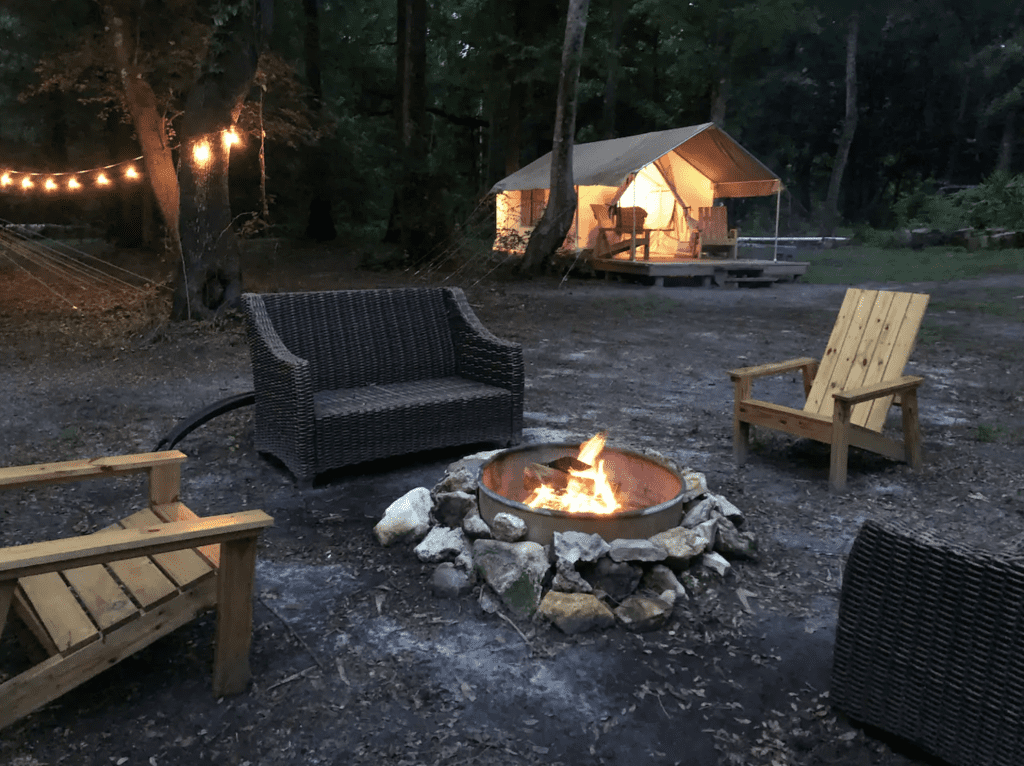 Waterview Cabin on Grandaddy Oaks
Perhaps one of the most quaint spots for glamping in Florida is the Waterview Cabin. This tiny A-frame cabin sits on a private farm covered in grandaddy oak trees. It's one of the best getaways in Ocala!
Right on the edge of a pond, the Waterview Cabin is a single room, elegantly adorned in all white. While there is no AC/heat, the unit does have power. The cabin wall closes, but there is a privacy curtain! If you want to sleep with the wall open, there is a bug net.
Enjoy the fire pit with surrounding seating while you cook on the charcoal grill. There is also a covered pergola with couches! Showers and restrooms are a short walk from the cabin.
Because this is a working farm, you will be neighbors with kangaroos, mini horses, and zebra! This is the best way to privately enjoy nature and make some new animal friends along the way!
Check Rates: Airbnb.com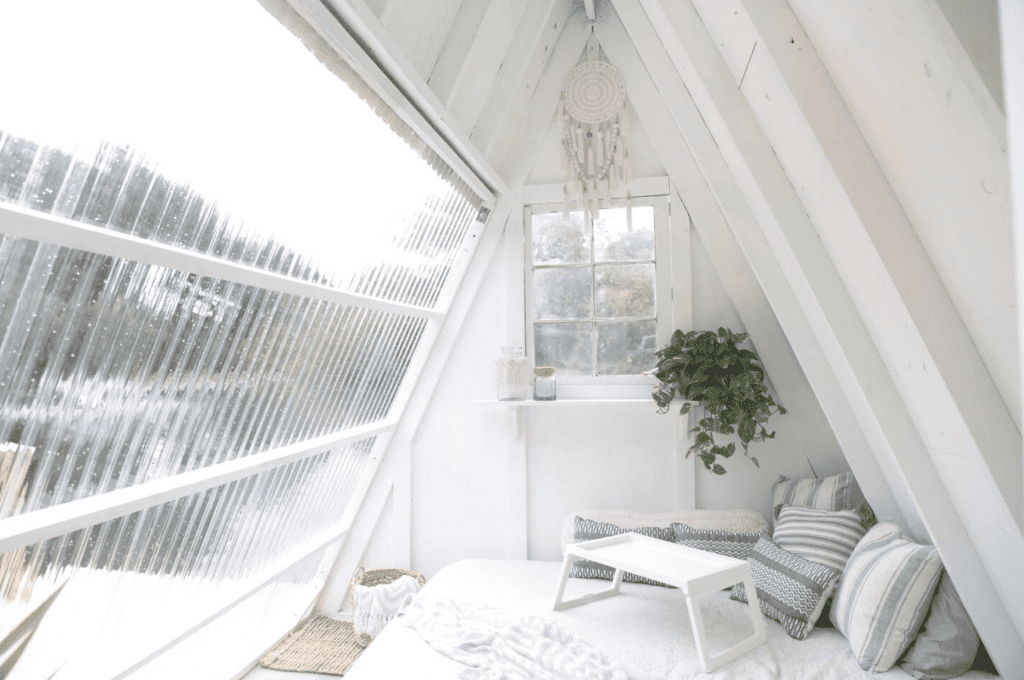 The View
The View is part of a tiny home community! Right on a lake, this is a perfect glamping spot for anyone looking to explore the city of Orlando and all its activities.
While this home may be tiny, it's interior feels anything but! Outfitted with a queen and a single bed, there is also a cozy living area with large windows with a great view of the lake. You'll feel at home with a TV and wifi access. There's also a kitchen and a washer/dryer!
Outside, you can enjoy a large private deck area with free access to paddle boards and kayaks. You also have access to two docks, fishing poles, and a tackle box. There is also yoga every morning!
Check Rates: Airbnb.com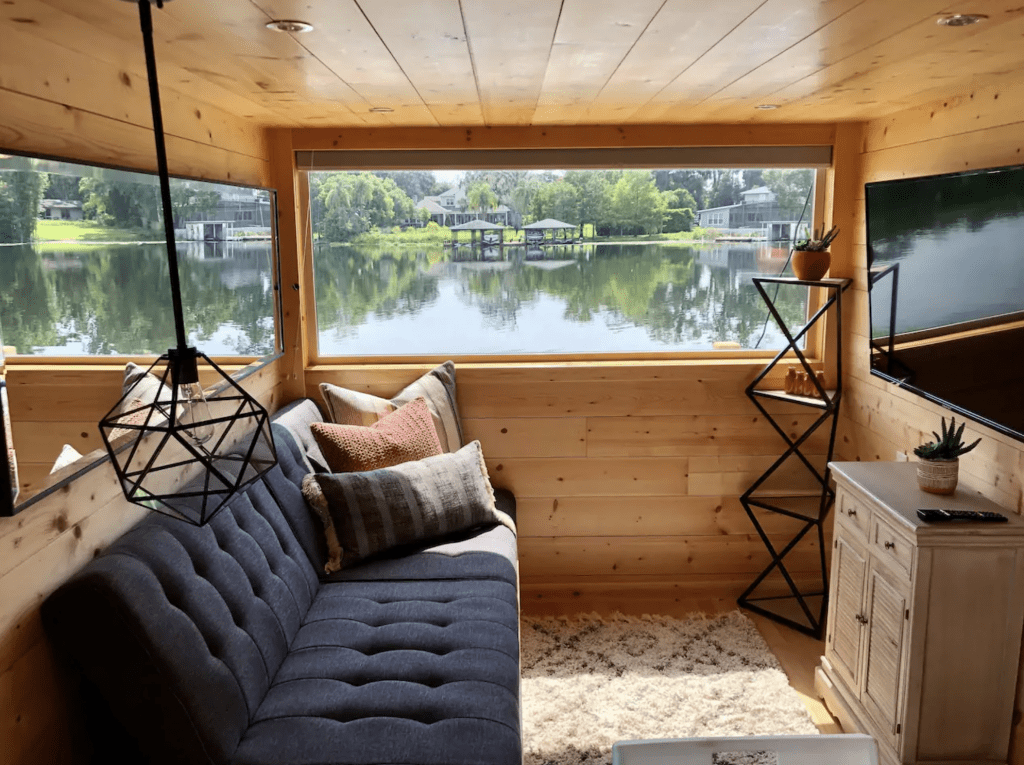 1969 Vintage Airstream
In Homestead, your next glamping experience is in this Vintage RV! This site is perfect for travelers who want to experience Florida's wineries or beautiful national parks.
Inside the camper, there are two king and 2 twin memory foam mattresses! If you're traveling in a group, this is perfect as you can easily fit four people. Outside is a covered porch with a wooden deck with lots of seating. At the end of the deck, there is your own private outdoor bathroom.
Cooking in the camper is not advisable, but there is a grill outside. Complimentary breakfast is served family-style every morning. There is also a heated pool and hot tub for your use. Wifi and washer/dryer access are provided.
Just down the street you can find the Everglades National Park and the Biscayne National Park. If food and wine are more suitable for you, check out Schnebly Redland's Winery & Brewery and the Fruit & Spice Park!
Check Rates: Airbnb.com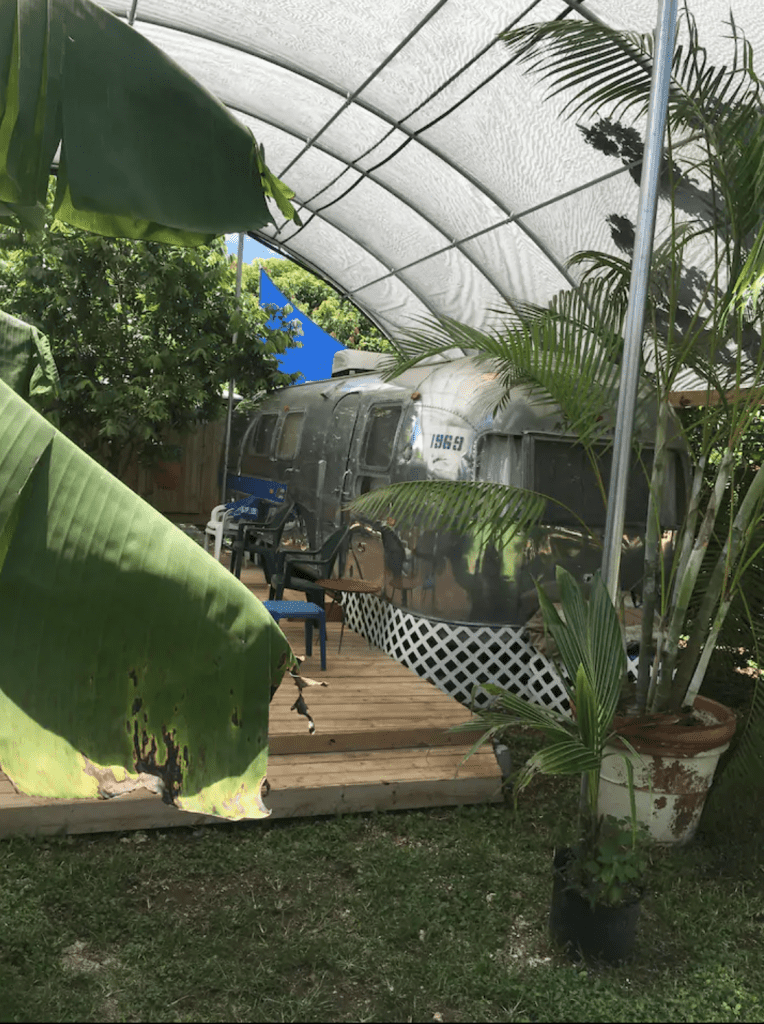 Rum Island Cabin
The phrase "cabin in the woods" doesn't always have to be scary! At Rum Island Cabin, in Fort White, you'll find a pristine paradise perfect for glamping in Florida.
Because this cabin is small, it doesn't feel cramped with a double bed, full kitchen, and full bathroom. There is also a TV and AC/heating. You can enjoy deer watching from the lovely screened-in porch. Outside there is a charcoal grill and picnic table with additional outdoor seating.
If you're a nature enthusiast, you'll love that a short walk from the Santa Fe River and a 1/4 mile walk from natural springs! This is perfect for kayaking, swimming, and even catching a glipse of alligators!
If you need to get back to civilization, High Springs has quaint shops and is 6 miles away. Gainesville is just 25 miles away and has all the offerings of a college town.
Check Rates: Airbnb.com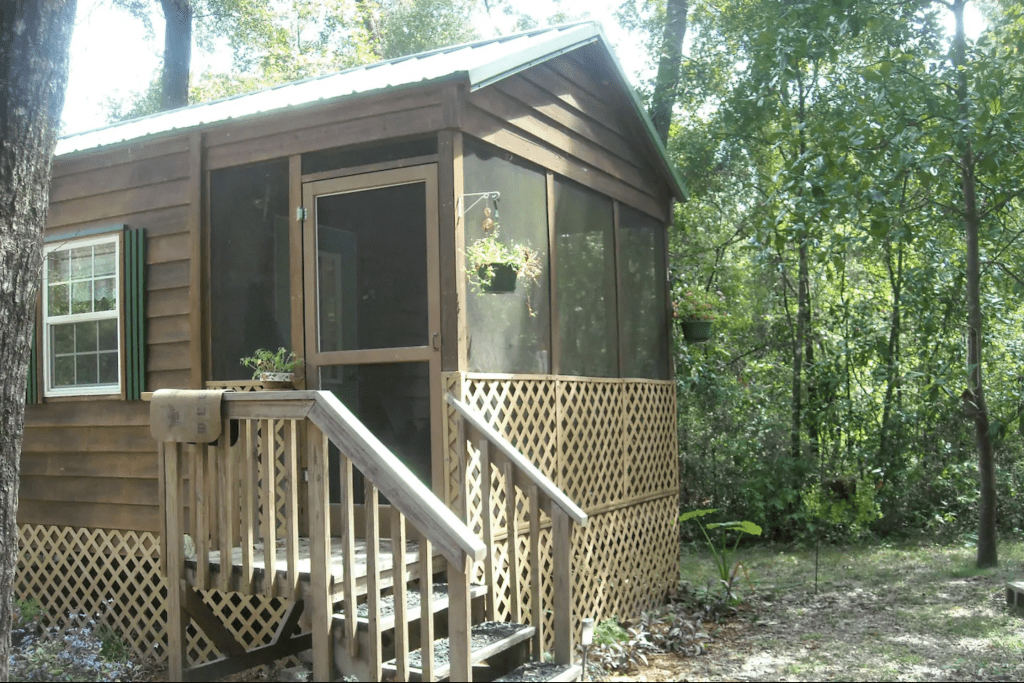 Vintage 1971 Airstream
This RV has been completely remodeled to let in bright, natural light to give you an open, homey feel on your Florida glamping excursion! Because this site is in Bradenton, you're just next to some of the best beaches, parks, and attractions in Sarasota!
Inside you'll find a California king bed and a couch that converts into a twin sleeper if you have 3 guests. There is also AC, a kitchen, fridge, and a projector for movies! Bathrooms are available through a short walk in the pool area.
Beyond the camper, the outdoor area is shaded by a large oak tree. Enjoy the large pool area and a keystone coral fire pit! As well as enjoying the area's activities, you will be sure to love staying in this gorgeous glamping site!
Check Rates: Airbnb.com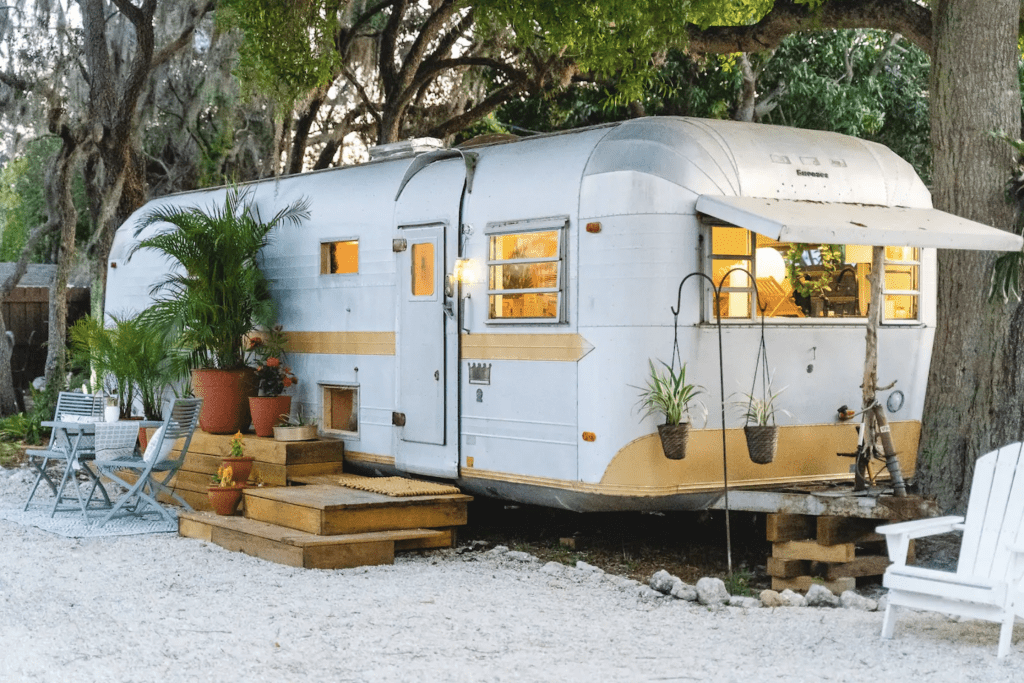 The Bermuda
The Bermuda is a tropical-themed tiny home a hop, skip, and a jump from a lake in beautiful Orlando. While the home may be tiny, your glamping experience will be anything but!
This unit is ideal for families. It has a double bed and two loft sleeping areas for children! There's also a full kitchen with all the essentials included like cutlery, spices, and dishes! Not to mention a full bathroom. That's a lot to fit in a tiny home!
The Bermuda also has many amenities for yard activities like corn hole! With access to a dock, you'll have free use of two fishing poles and lures. You can also use the two person kayak and paddle boards!
If you're traveling with small children and want to get the most bang for your glamping buck, The Bermuda is perfect for your next adventure!
Check Rates: Airbnb.com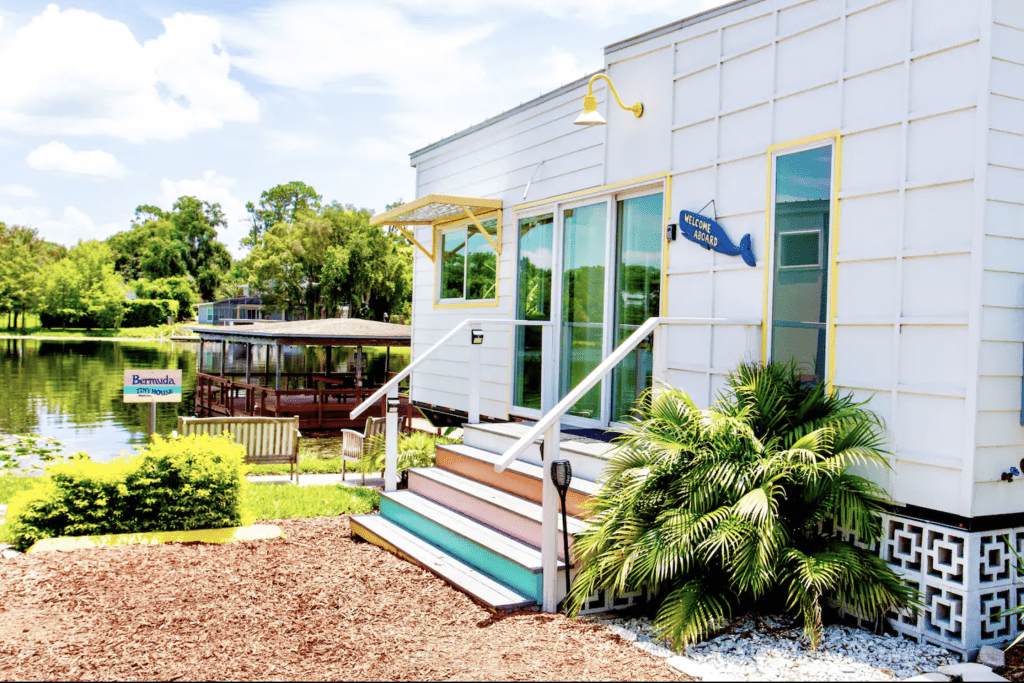 The Yurt at Danville
In Geneva, you'll find one of the most romantic glamping experiences in the Yurt in Danville. If you've never been to a yurt, don't worry! It's just a circular tent!
This is one of the cutest yurts in Florida with a rustic charm in its decorating. At 21 feet in diameter, it's spacious with a King murphy bed, full bath, and mini kitchen. There's even a flatscreen with DirecTV and free wifi!
Once you're outside, you'll notice the expansive deck with a barbecue grill and porch swing. You might even get to meet the neighbors, Bobo and RJ. Don't worry, they're just the neighborhood alpacas!
This site is in a complex with plenty of amenities like an Irish Pub. There are even over 500 acres of trails perfect for a romantic walk under the stars. Make sure to check out the Geneva General restaurant down the street for a great breakfast!
Check Rates: Airbnb.com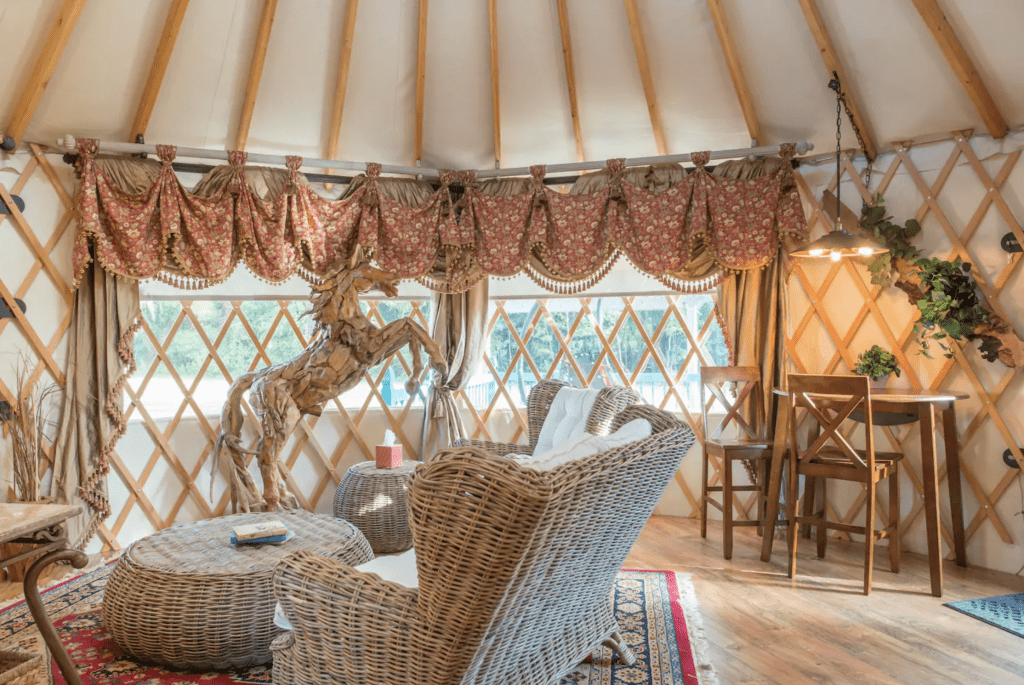 Glamping With Alpacas
You're not just glamping with alpacas in this safari tent in Lee. There are also sheep, goats, pigs, a variety of different kinds of poultry, and honey bees, making this an animal lover's paradise.
The safari tent is actually set up among the alpacas' favorite grazing herd. Inside you'll find a double memory foam mattress and nightstands. Right next to the tent is a fire pit with outdoor seating.
A short walk away you'll find the "Red Shed" with a refrigerator, microwave, toaster oven and coffee maker. You can also cook out on the gas grill and picnic tables!
Check Rates: Airbnb.com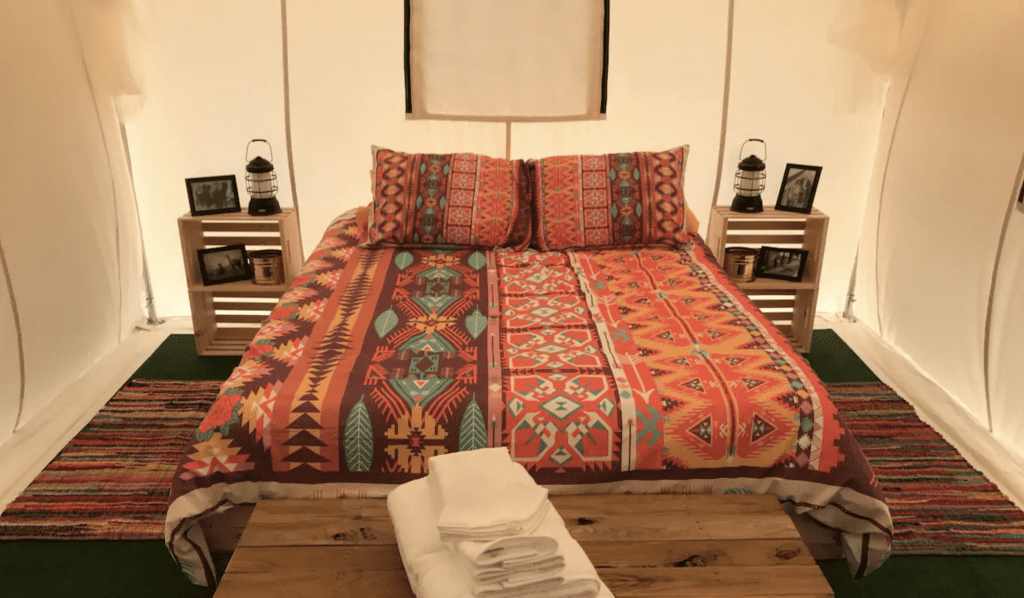 The Treehouse at Danville
This treehouse isn't your grandmother's treehouse. It looks like it was made from disassembled carnival rides or like something out of a Dr. Seuss book! In Geneva, you can glamp in this truly unique, whimsical treehouse.
Once you ride the tree trunk elevator up to yurt-level, you'll find a queen murphy bed and a TV with Netflix and Amazon Prime. There's plenty of accent lighting to create the mood of living in a tree under the stars. It can't get more romantic with a 4-foot skylight above.
There are two deck levels: On the upper deck there's a swing chair and table. The yurt-level deck has a gas grill and fireplace with seating. The mid-level deck has a two person shower and a hot tub made from an actual DC 10 jet engine cowling!
Because there are so many amenities on the grounds, like an Irish Pub and over 500 trails to traverse, you will be provided with a golf cart for the duration of your stay!
Check Rates: Airbnb.com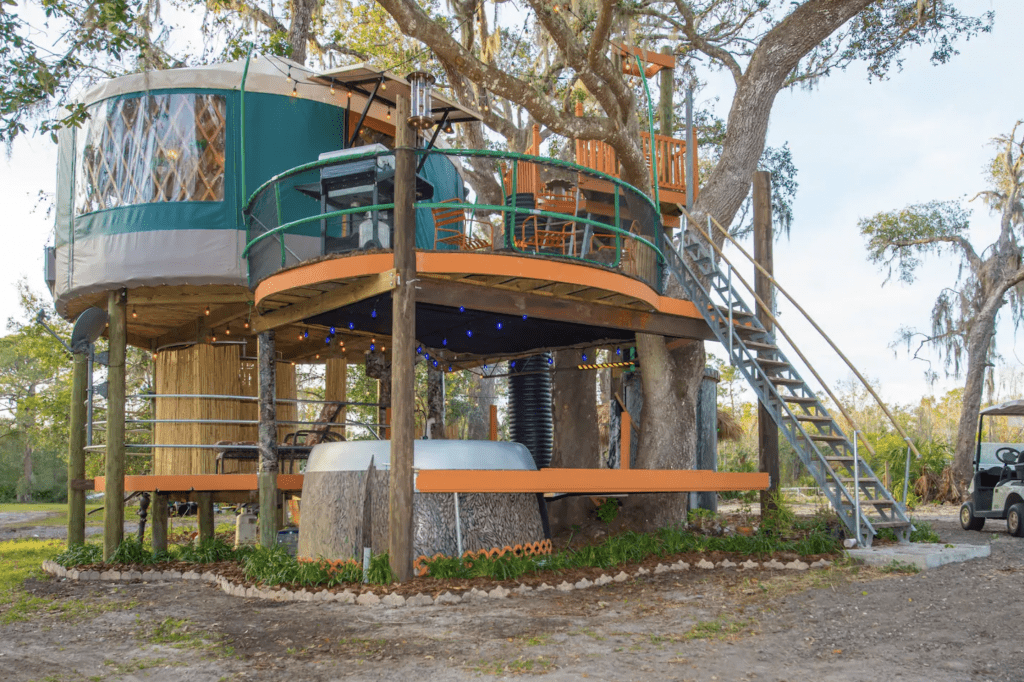 The Little Treehouse 2
With Orlando nicknamed "The City Beautiful," your glamping in Florida experience can be beautiful too. The Little Treehouse 2 is a converted 1926 carriage house with 260 square feet of charming and comfortable glamping.
Inside, you'll find a beautiful queen Tuft & Needle bed and kitchenette. There is a large screen TV with Netflix and Amazon Prime and AC/heating! Enjoy the full bath with modern appliances. Cozy up next to the fireplace while listening to your favorite artists on the bluetooth speaker.
Outside, you'll find a seating area in lush backyard with a fire pit. 2 bikes are provided for your use. It's only a 5-minute ride to local bars, coffee houses, and popular restaurants on Edgewater Drive downtown!
Check Rates: Airbnb.com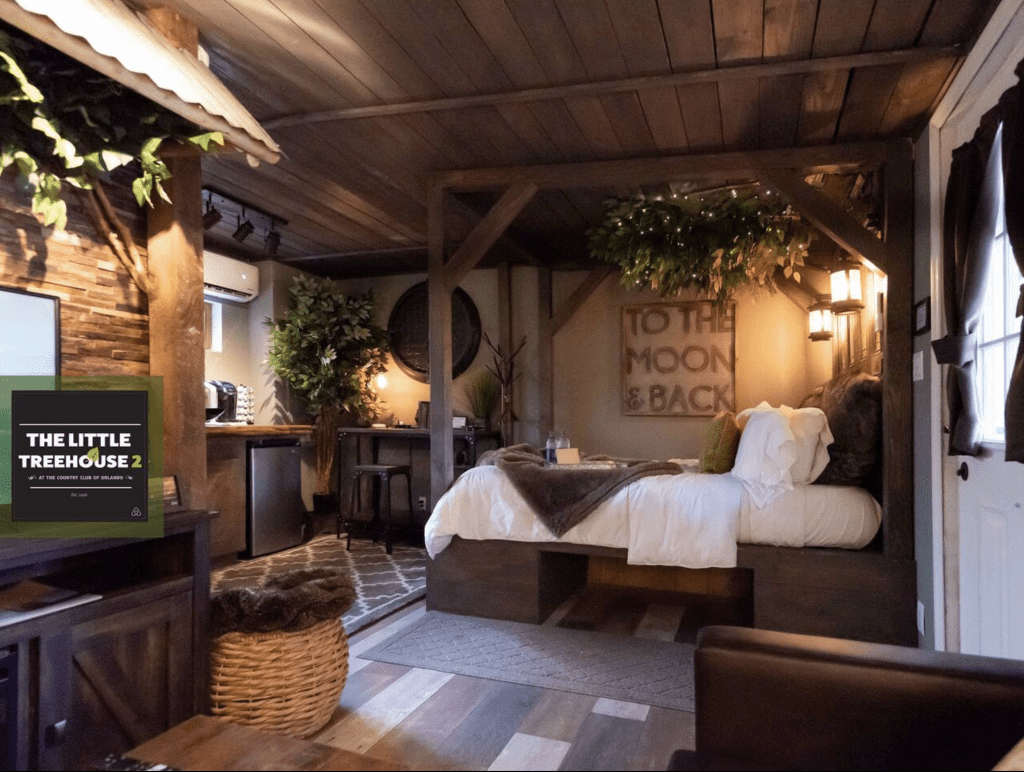 Artist's Dream House
On 10 acres of woodlands in Santa Rosa, the Artist's Dream House is aptly named. It is the perfect serene getaway in a quaint log cabin perfect to unplug and unwind!
Furnished with a double futon and bunk bed, there's a fridge and microwave in the coffee room area! Utensils are provided! There's also a full bathroom with hot water. AC/heating is available.
Outside, you'll find a charming sitting porch. On the side there is an outdoor shower, perfect after you spend a day kayaking across the Mack Bayou across the street. There are also two beach bicycles available!
Check Rates: Airbnb.com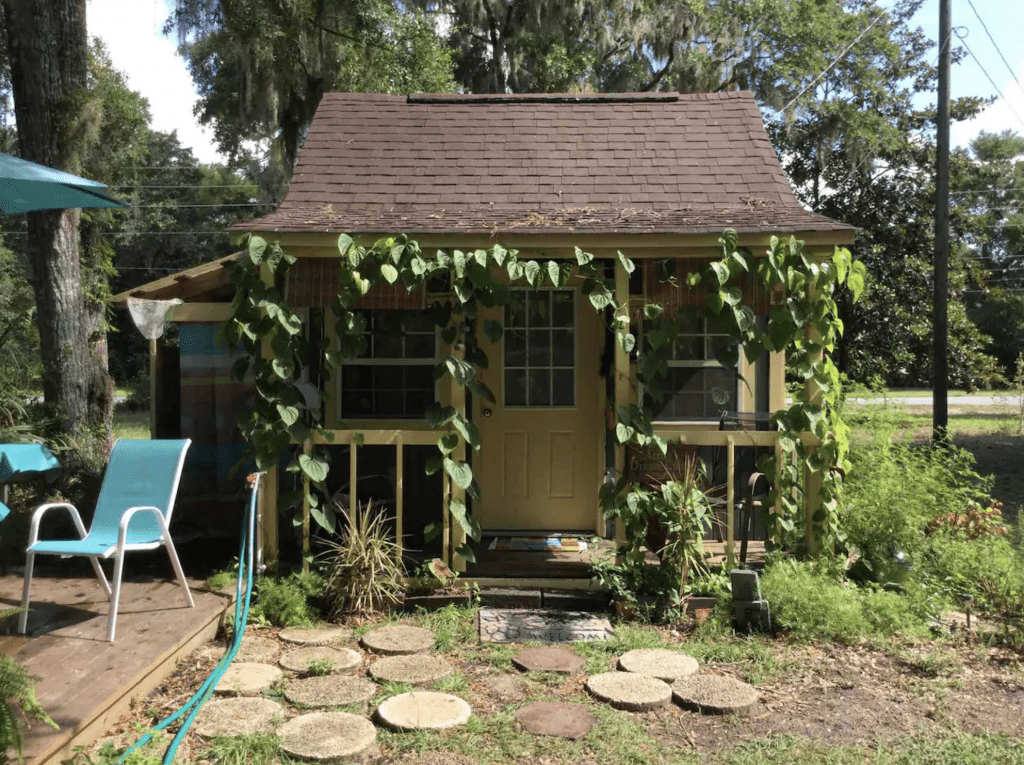 Did You Find This Post Helpful?
If so, we would love to keep in touch! We enjoy seeing photos and comments about your experiences in Florida! You can follow us on Instagram and we will repost your photos on our feed and comment too! Just tag us at @floridatrippers and hashtag #floridatrippers. We can't wait to see your travels!