Looking for a list of the prettiest small beach towns in Florida? We have you covered with this list of the 10 best small beach towns in Florida!
Florida is the 3rd largest state in the US and known as the Sunshine State! Only second to Alaska with miles of shoreline, paired with warm weather you can visit these cute beach towns in Florida year-round!
This list includes small beach towns in Florida on the Atlantic and Gulf stretching from the southern Florida Keys north to the Florida/Georgia border. Wherever you are located in Florida you are just a quick drive to one of these amazing 10 quaint Florida towns!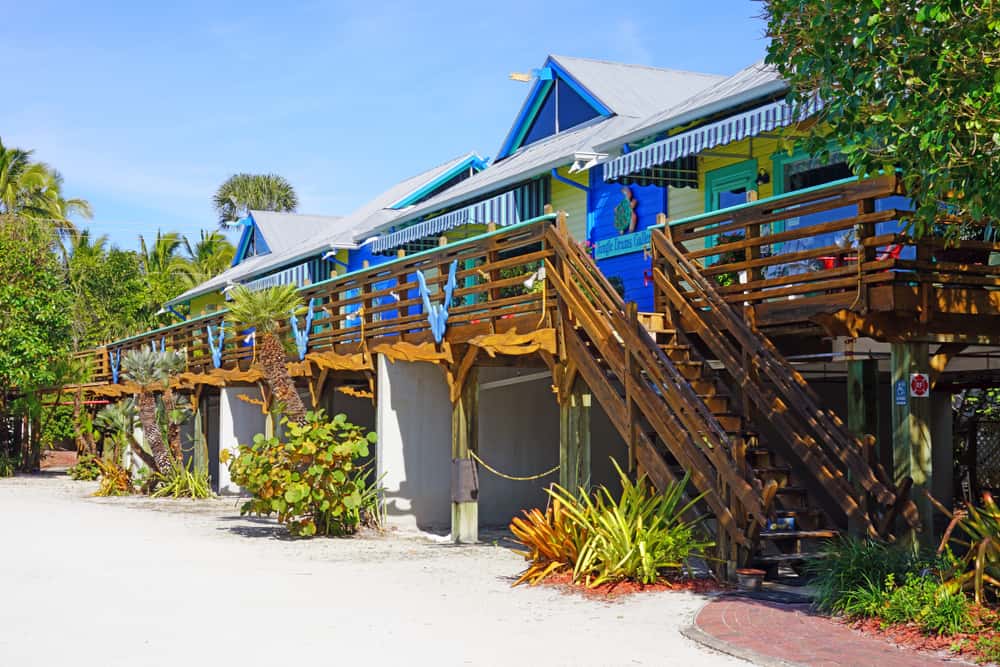 10 Prettiest Small Beach Towns in Florida
Captiva Island
Captiva Island is located 1 hour from Fort Meyers, Florida on the gulf coast. One of the prettiest small beach towns in Florida is only 5 miles long and ½ mile wide! Located just north of Sanibel island, what makes this quaint Florida town unique is no cars are allowed! Captiva Island is broken up into the Big, North, and South villages.   
To arrive into Captiva Island, you cross the Blind Pass bridge, which was created after the 1926 hurricane separate this part of the island from Sanibel, creating the Blind Pass Channel. Captiva island was a vacation destination for Teddy Roosevelt and Charles Lindberg.
If you are looking to disconnect on remote Captiva island should be on your list of small beach towns in Florida in to visit! The North side of the island is privately owned, while the south village has shops, restaurants and bars!
Captiva island is a family friendly beach town with uncrowded stretched of warm white sand beaches. Home to the JN Darling National Wildlife Refuge, Captiva island is an outdoor wildlife paradise. You will see dolphins, birds, and wildlife and the island slogan is "naturally you will love it here".
This cute beach town in Florida also provide the opportunity for outdoor water lovers to kayak to nearby Pine Island sound, or take an eco-tour of the island.
For those looking to just relax, Captiva Island is home to an all-inclusive resort, with a free tram service to various business on the island. Try the Mucky Duck restaurant and Bar decorated in a colorful ocean theme, or the Key lime Bistro.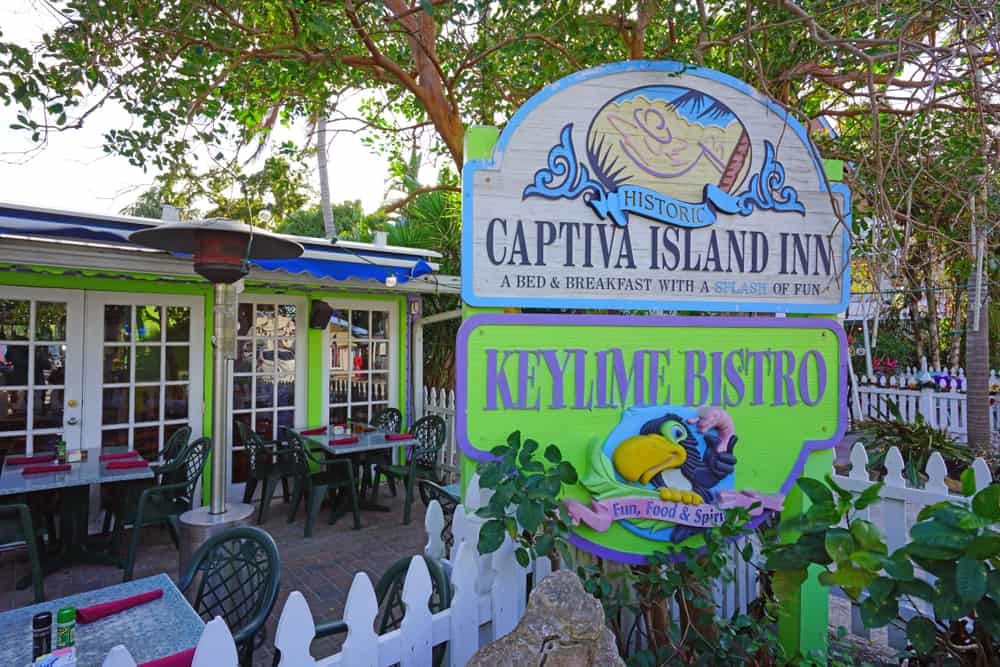 Anna Maria Island
Anna Maria Island is located 30 minutes from Sarasota on the Gulf Coast. This 7-mile island has an old Florida feel as a result of no big development on the island. The first bridge was built in 1921 connecting the island to land!
There is a free trolley on the island that runs every 20 minutes, and the Monkey bus for those wanting a more entertaining experience. If you take the free trolley to the last stop you can visit Bean point beach a beach made of quartz rock that stays cool year round!
With a population of less than 2000 residents this small beach town in Florida is divided into Anna Maria, Holmes beach and Bradenton Beach. Anna Maria is located on the northern side of the island and home to the Florida Maritime Museum.
Holmes beach is in the middle with Manatee Avenue known for its beaches and the islands only grocery store! While Bradenton beach is on the Southside with Bridge street being home to lively music, restaurants and bars.
Anna Maria Island features horseback riding on the beach, and the Bradenton Shipwreck a great dive site just off the coast.
Anna Maria Island is one of the best small beach towns in Florida for wildlife. The island is a bird sanctuary, and dolphins, manatees and turtles can regularly be seen on the island.
Try Duffy's a cash only establishment known for its burgers, Sandbar Restaurant or Rod n' Reel Pier for delicious seafood.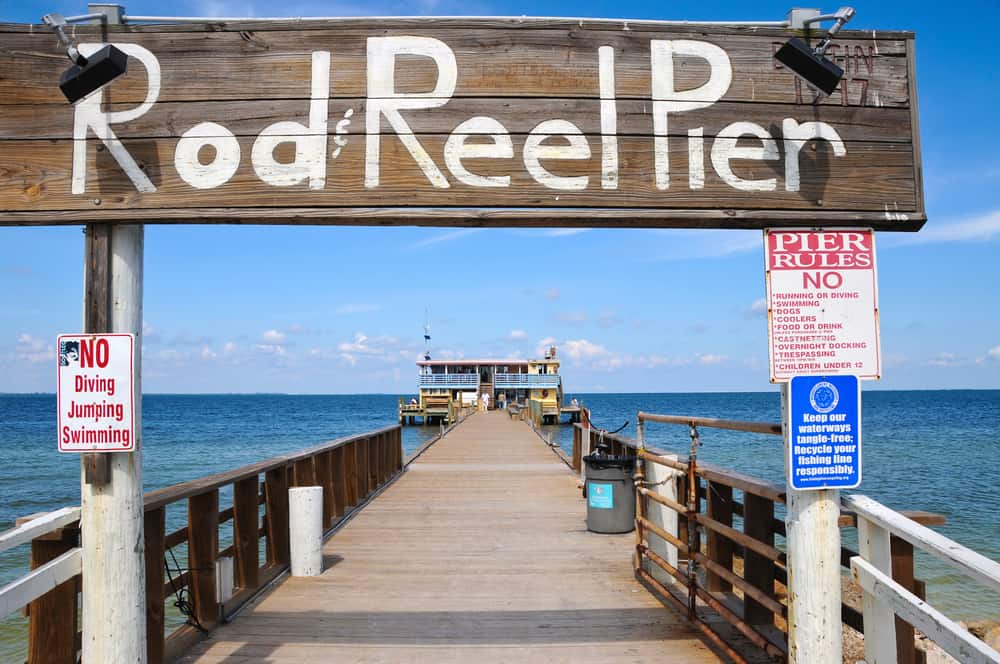 Cedar Key
Cedar Key located on the Gulf Coast of Florida located 50 miles Southwest of Gainesville Florida. This is one of the smallest beach towns in Florida located off of Highway 24, and only has a population of 800 residents.
With 3 miles of unspoiled Gulf Coast, Cedar Key is the second oldest town in Florida. Time has stood still in this small beach town in Florida. With historic buildings downtown, and homes and business built on stilts along the waterfront.
This quaint town was founded in 1849 and wiped out by hurricane in 1896. This allowed the cedar trees to regrow over the last 100+ years!
Cedar key is an old fishing village where clam farms is a major industry to the area bringing in $30 to $40 million annually. Try the clam chowder on every menu in town.
For those looking to visit an uninhabited island you can take a 30-minute kayak ride out to Atsena Otie Key part of the 891-acre Cedar Keys National Wildlife Refuge founded in 1929. Here you will find pelicans, bald eagles, and spoonbills.
Saint George Island
Saint Geroge island is the best small beach towns in Florida for those looking to visit 28 miles of unspoiled barrier islands! Constantly voted as one of the top beaches in the Unites States you won't find any high rise building or chains here!
First inhabited in the 10th century by Muscoque tribe and later Europeans during the 1800s. In WWII the island was used as a bombing range for B-24 target practice.
Saint George island is divided into three parts, Dr. Julian G, Bruce St. And St. George Island state park which costs $6 per vehicle to enter. It is located on the east end of the island providing hiking trials, birding, and loggerhead migration from May through October.
As a pet friendly island this is one of the best small beach towns in Florida to take a vacation with you pets! A 79-foot-tall lighthouse is located in the center of the island.
The local chamber of commerce run events such as Yoga and SUP on the beach. They also have weekly and monthly events such as Art and Wine Splash. A chili charity cook off in March, and a Rock by the Sea musical event!
For seafood try the Blue Parrot Ocean Front Café or the Pesky Pelican and many of the local restaurants are pet friendly!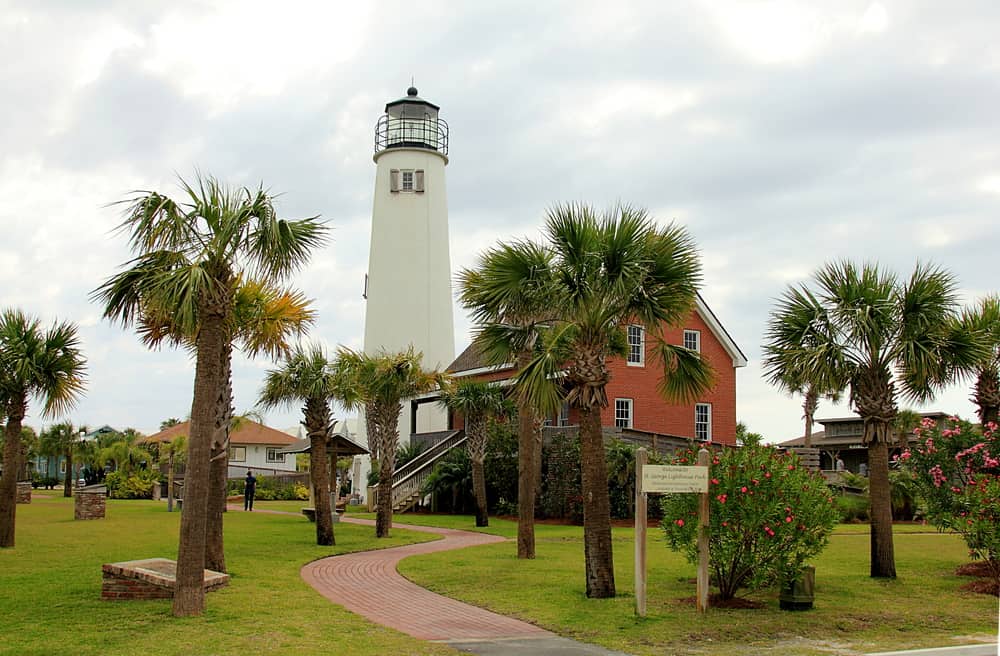 Maderia Beach
Maderia beach is located just west of St. Petersburg beach. Pirate John Levique was the first European to call Maderia beach home after the 1848 hurricane created a new pass.
Mad Bea as it is known by locals is home to John's Pass Village. A great destination to visit in this small towns in the Florida. Built on an 1100-foot boardwalk the village center is home to over 100 restaurants and shops.
Maderia beach is a retiree community that has a laid-back vibe mixed with all things pirate. You can take daily pirate charters out of Hubbard's marina or go deep sea fishing on a charter.
At John's Pass for seafood lovers there is Friendly Fisherman located on the dock and is the perfect place for dinner and drinks. The Florida Winery is located at John's Pass and offers free tastings of their 20 varieties of award-winning wines. For beer lovers Mad Craft brewing company brews beach friendly beers such as Kalypso Key lime and It's a Beach wheat ale.
With only a population of 5000 this small beach town in Florida is the perfect place to escape for a weekend.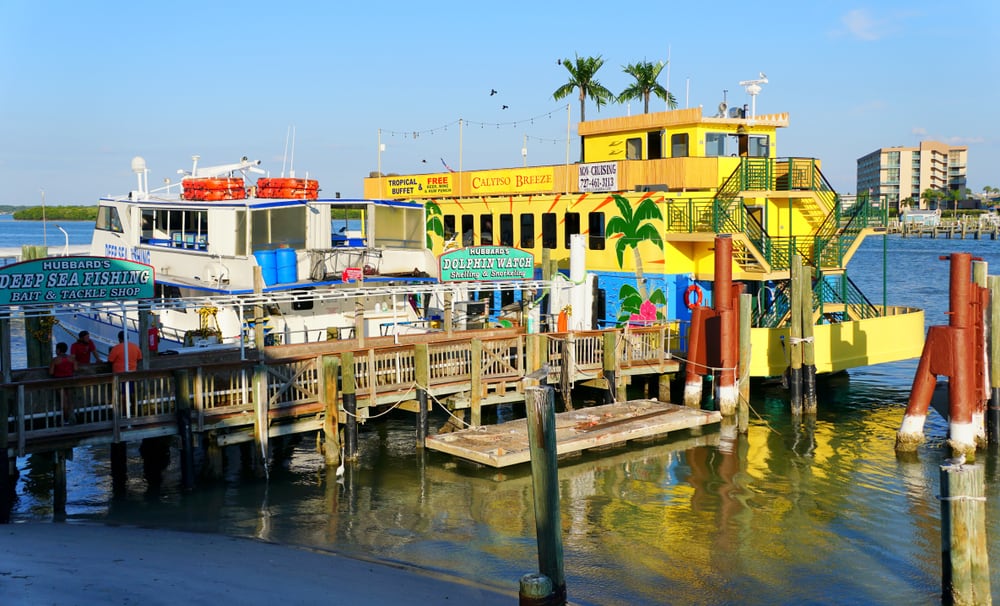 Fernandina Beach
Located on Amelia Island it is one of the south's deepest harbors and home to a thriving shrimping industry! Pirate culture is taken seriously in one of most unique small beach towns in Florida. Don't be alarmed if walking around town you see people dressed in historical outfits.
Fernandina Beach is located on the Florida Georgia border and situated on the south bank of the St. Mary's river. This small beach town in Florida is unique due to history of having flown 8 nations flags.
The history of the 8 flags is celebrated at the Isle of Eight Flags Shrimp festival. The French flag was the first to be flown in 1562, followed by Spanish glad in 1573 and again in 1783 after the treaty of Paris returned Florida to Spain.
Then the English Flag, the Patriot Flag in 1812, the Green Cross Flag in 1817, Mexican Rebel Flag, the Confederate Flag in 1861 and finally the US flag in 1862 as Samuel Dupont returned federal control to Florida.
For those interested in history, visit the 50-block historical downtown, where on the first Friday April through October there is a live music festival called Sounds on Center.
Or visit the Maritime Museum and 19th century fort, Fort Clinch for visitors interested in more of the unique history of this small beach town in Florida.
Try drinks at the Palace Saloon, Florida's oldest bar open since 1903! OR Timoti's serving fresh seafood and shrimp dishes!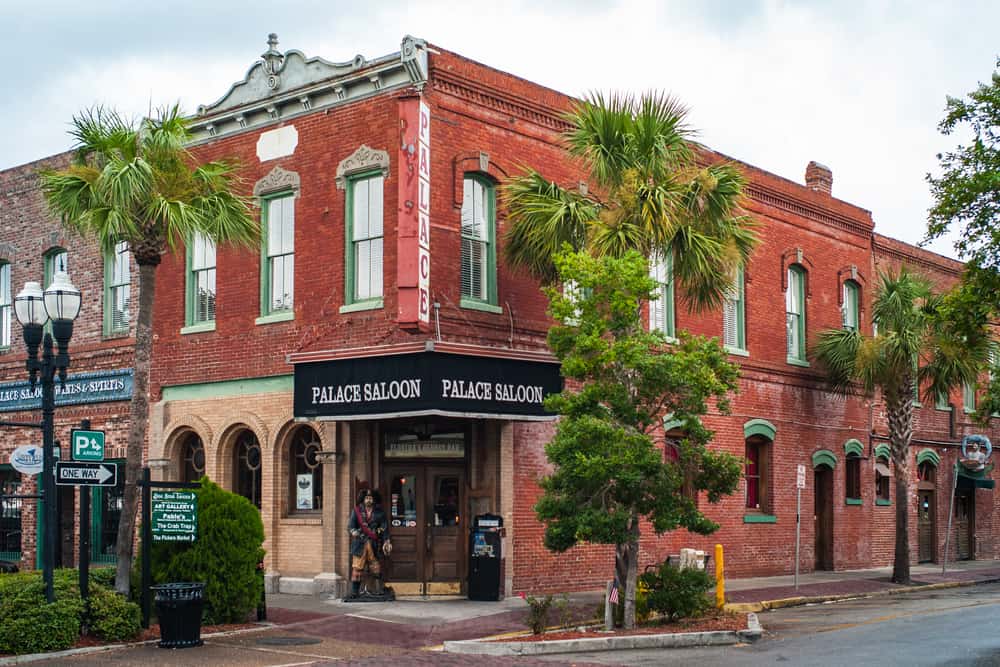 Tarpon Springs
Tarpon Springs was first settled in 1876 and named after the first inhabitants saw tarpon jumping! Officially becoming a town in 1876, it was later added as a railroad stop in 1888! Tarpon springs town is on the historical Florida registry of places of visit. Visit one of the art galleries, sponge shops, antique shops, Greek restaurants or bakeries!
What is unique about this small beach town in Florida is that Tarpon Springs is home to the largest Greek population in the United States.
Tarpon springs is known as the sponge capital of the world! You can take a St. Nicholas Boat tour to see how sponge divers collect one of 18 varieties of sponges from wool to yellow sponge. Or wander along Dodecanse Blvd where the sponge docks are located.
Tarpon Springs is known for its microbreweries as well a great small beach town in Florida to visit if interested in beer! You have the Two Frogs Brewery with a speakeasy vibe and Saint Somewhere a brewery opened in a home!
With a strong Greek influence an Epiphany celebration held at the Greek Orthodox Church as well as the Opa' Palooza Greek Seafood festival held in November.
For Greek Food try Mama's or Mykonos!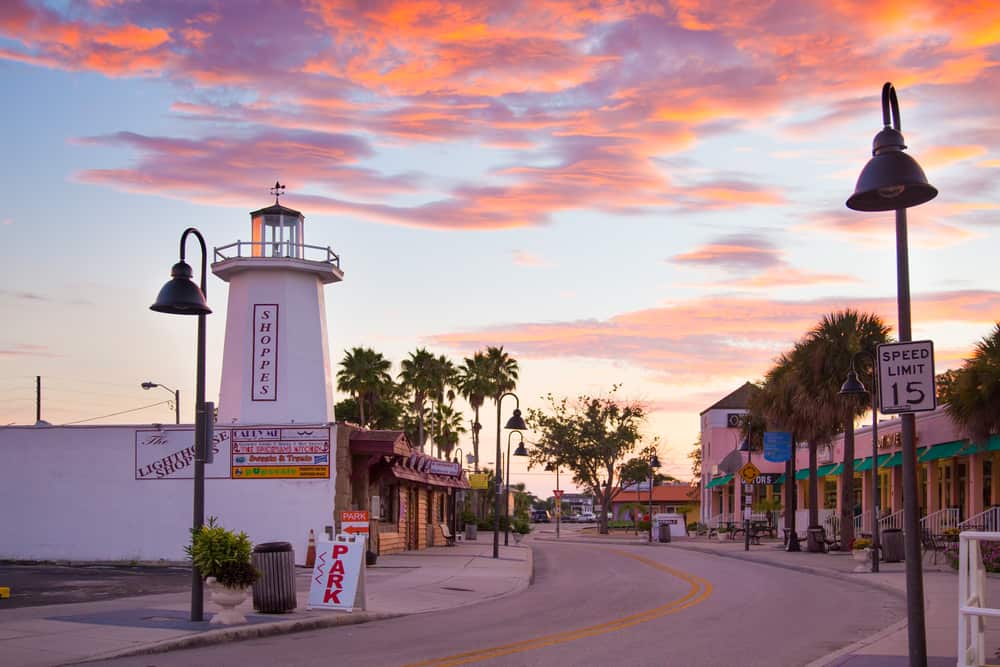 Islamorada
Islamorada or "purple island" is located in the Florida Keys! Located 15 minutes from the local airport or just 1.5-hour drive south from Miami.
At 7 miles long, Islamorada is the best small beach town in Florida if looking to fish. It is the sports fish capital of the world, with fishing on both the Atlantic Ocean and Gulf of Mexico. You can find over 500 species of fish here. Peak season in December through May!
No trip to Islamorada is complete without a stop at Robbie's marina located at MM 77. You can feed tarpon for $2.25 per person, or for the more adventurous you can rent a kayak to visit Indian Key state park.
While at Robbie's try the hogfish sandwich at the Hungry Tarpon. Or Chef Michael's for a more upscale dining experience.
Theater of the sea is a great place to get up-close to dolphins, sea lions, or take a glass bottom boat ride. For those looking for an all-inclusive resort setting in one of the best small beach towns in Florida try Cheeca Lodge for you upscale all-inclusive get-a-way!
Located in the 6-block cultural downtown, you will find tons of art galleries and Art Walk that is held once a year!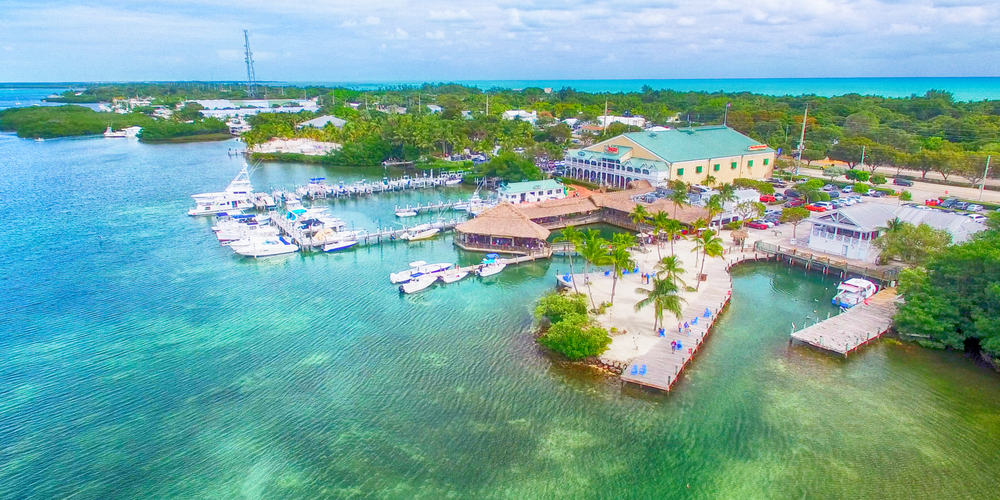 Key Biscayne
Key Biscayne is located just over the Rickenbacker causeway from Miami.
In 1940, the Matheson family donated land that is now home to Crandon Park on the north side, and in 1948 Cuban exile Aleman donated land that is now home to Bill Baggs Cape State Park on the south side.
This small beach town in Florida is home to the oldest Lighthouse in the United States built in 1825! Free tours are given at 10 am and 1 pm Thursday through Monday. The Ritz Carlton hotel calls Key Biscayne home for those looking for a luxurious stay!
Just off the coast is Stiltsville, built in 1930 it is a community of homes built on Stilts in the Biscayne Channel. There is also a Fossilized mangrove reef, only one of 2 in the world and is over 6000 years old.
Crandon park is 2 miles of white sand beaches, and where the Biscayne National Park, and Marjory Stoneman Douglas Nature Center and a 13-mile heritage bike trail.
Try the Rusty Pelican opened in 1947, the Boater's Grill at No Name Cove, or the Donut Gallery.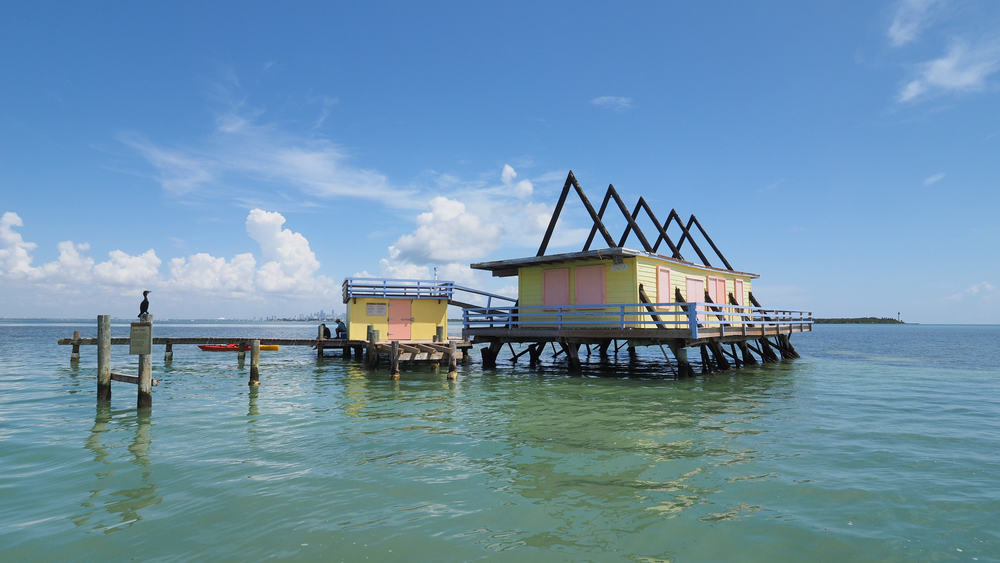 Seaside
Seaside is a small beach town in Florida located in South Walton off of highway 30A. It is colorful and white picket fences it was designed to be the perfect layout for a beach town! Called New Urbanism it is centered around a walkable town!
If Seaside looks recognizable that is because the Truman Show was filmed here.
This quaint Florida town is known for both its architecture and atmosphere. With white sand beaches, and centralized downtown for shops and restaurants this is a great beach town on the Gulf.
The motto of Seaside is "you never meet a stranger while in Seaside". For a dining experience try Vue on 30A voted on the best waterfront dining and sunset in the area! Or try dining at one of the many airstream trailer food trucks. Bud and Alley's taco bar is another popular hot spot.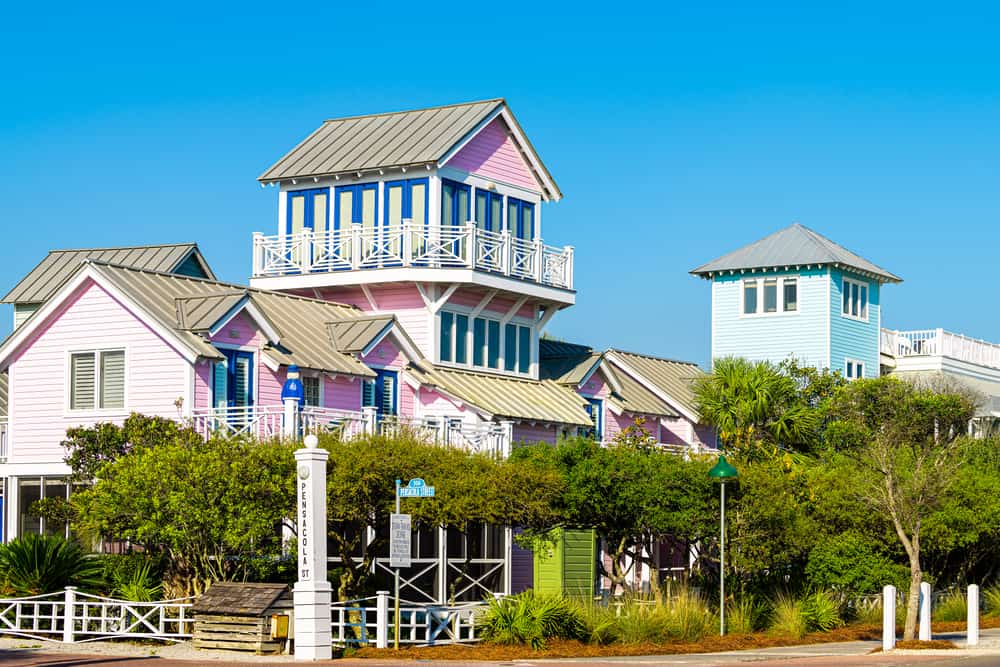 Did You Find This Post Helpful?
If so, we would love to keep in touch! We enjoy seeing photos and comments about your experiences in Florida! You can follow us on Instagram and we will repost your photos on our feed and comment too! Just tag us at @floridatrippers and hashtag #floridatrippers. We can't wait to see your travels!