If you're looking for a fun new adventure, then skip the hotel and book your next stay at one of the exciting and glamorous treehouses in Florida!
Do you have childhood memories of playing in treehouses? Why not add an air of whimsy to your vacation? There are so many actual treehouses in Florida that you can stay in!
Some treehouses have more amenities than others of course, but there's a treehouse for everyone. It doesn't matter if you want an intimate experience in nature or a glamping extravaganza with a large group. The treehouses in Florida can do both!
So on your next vacation, ditch the hotels! Get an experience in nature that will leave you with memories for years to come. Check out the best treehouses in Florida on your next adventure!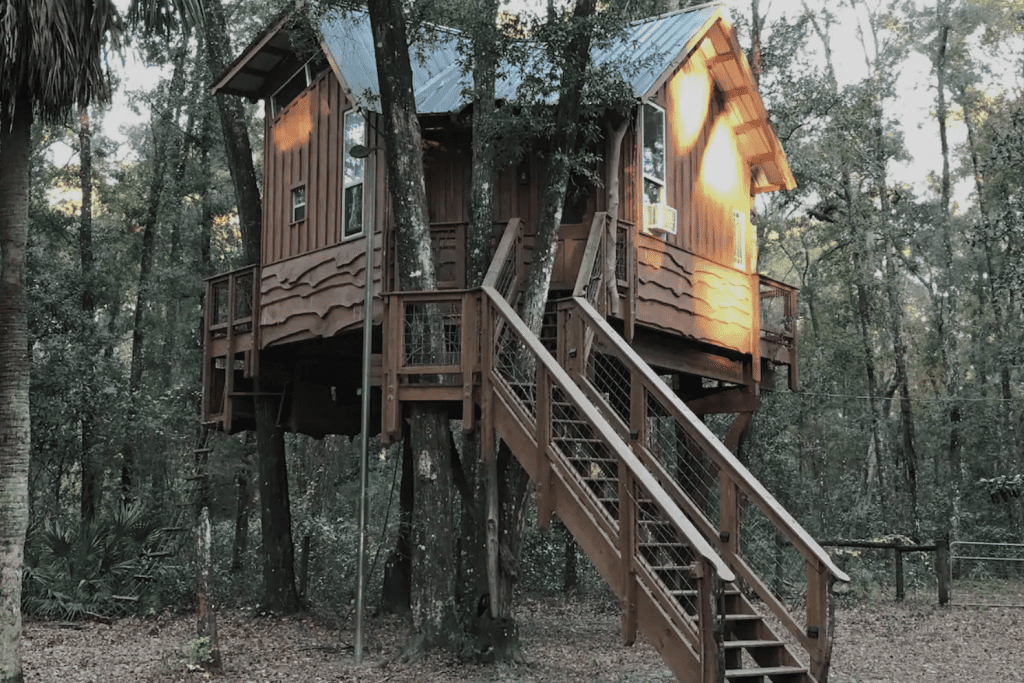 16 Best Treehouses In Florida for The Perfect Retreat
Canopy Room
If you are looking for a truly unique experience, then look no further than this incredible Tree-house Canopy Room Airbnb in Miami! Get in tune with nature as you stay in this amazing private room in a large treehouse. In addition to the quirky sleeping accommodations, you also get to enjoy goats, pigs, emus, roosters, and cats that live on site. 
No need to set an alarm because the resident roosters will welcome the day with early crowing. This is the perfect place for those looking to unplug from technology and unwind in nature. It can accommodate up to 2 guests with 1 bedroom, 1 bed, 1 shared bath, outdoor shower with hot water, and shared kitchen.
Kayaking, bicycle rental, and sailing are all available for small fees. Staying at this Airbnb in Miami, you will be close to the Art District and approximately 15 minutes from South Beach and the airport.
Check Rates: Airbnb.com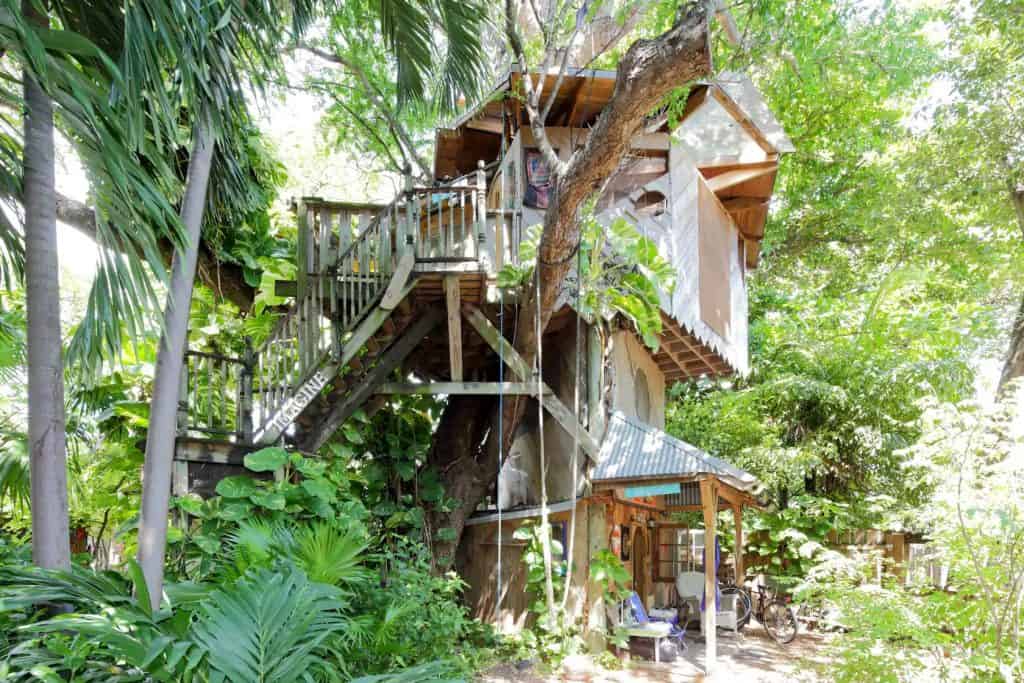 The Yurt at Danville
In Geneva, you'll find one of the most romantic glamping experiences in the Yurt in Danville. If you've never been to a yurt, don't worry! It's just a circular tent!
This is one of the cutest treehouse airbnbs in Florida with a rustic charm in its decorating. At 21 feet in diameter, it's spacious with a King Murphy bed, full bath, and mini kitchen. There's even a flatscreen with DirecTV and free wifi!
Once you're outside, you'll notice the expansive deck with a barbecue grill and porch swing. You might even get to meet the neighbors, Bobo and RJ. Don't worry, they're just the neighborhood alpacas!
This site is in a complex with plenty of amenities like an Irish Pub. There are even over 500 acres of trails perfect for a romantic walk under the stars. Make sure to check out the Geneva General restaurant down the street for a great breakfast!
Check Rates: Airbnb.com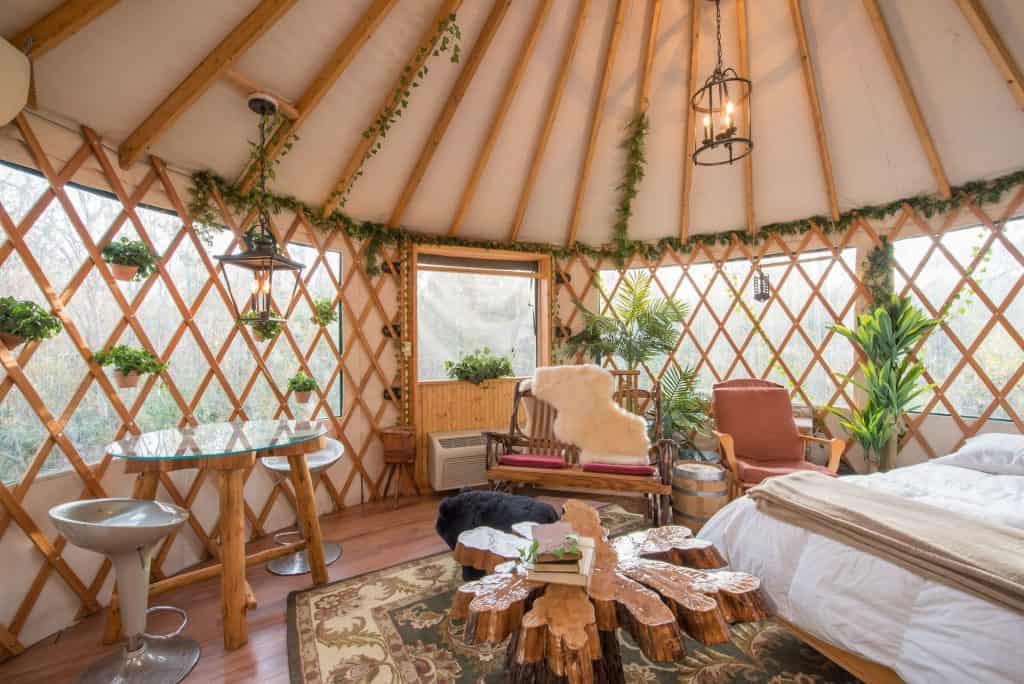 Treehouse in the Woods
Located in Kissimmee, the Treehouse in the Woods will land you relatively close to Disney World and Universal Studios if you're planning to immerse yourself in all things Disney during your trip.
Despite its proximity to Disney, the Airbnb itself is a secluded little getaway in the woods. It's the perfect place to set up a board game, read a book, and talk with your significant other well into the night.
After an adventurous day, you can look for tree frogs by the pond and relax in the hammock underneath the treehouse while watching the sunset before venturing back into the house itself. You'll feel cozy and happy as a child in one of the most unique treehouse getaways in Florida.
Take note that a ladder is required to reach the bed, and the hosts also do not allow any guests under the age of 16.
Check Rates: Airbnb.com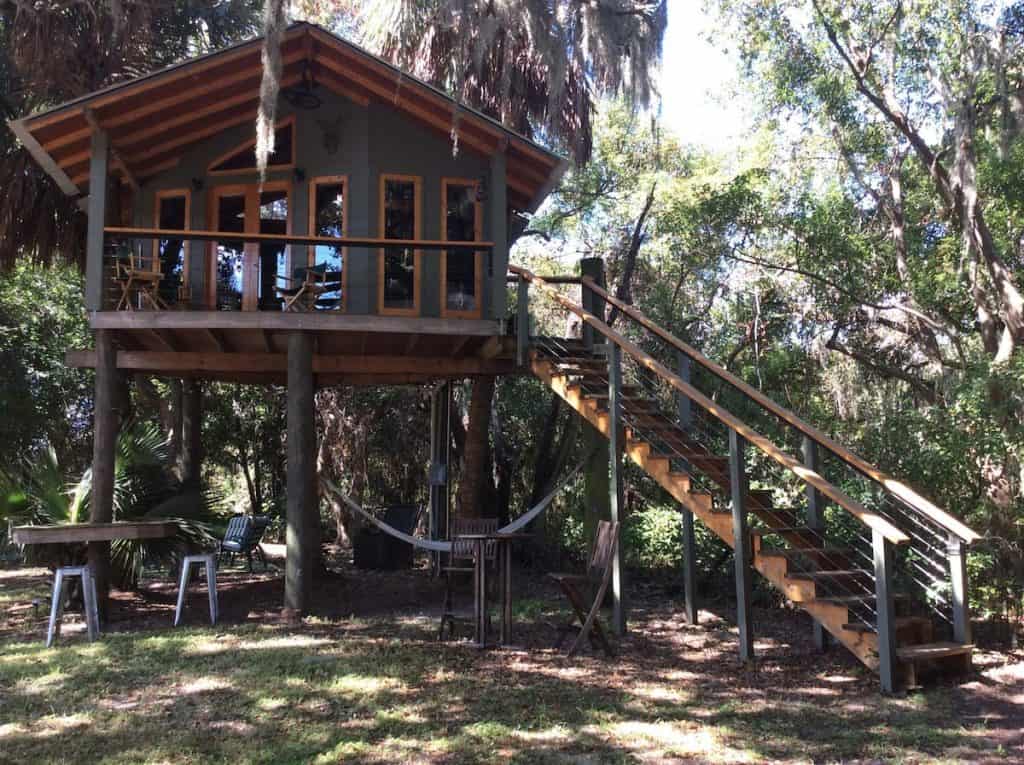 The Birdhouse
Located on the Suwannee River, this Florida glamping site is a quaint open-air building that looks like a birdhouse! This is perfect for those wanting to experience the great outdoors with hiking, fishing, swimming, and kayaking.
Inside the Birdhouse, you'll find 3 beds, a love seat, a rocking chair, and a mini-fridge. A quaint balcony faces the Suwannee River. With access to a charcoal grill, bring your steaks for grilling!
There is a floating dock on the river, perfect to swim to or fish from. Best yet, this site is minutes away from Madison Blue Springs, one of the best natural springs in Florida!
Check Rates: Airbnb.com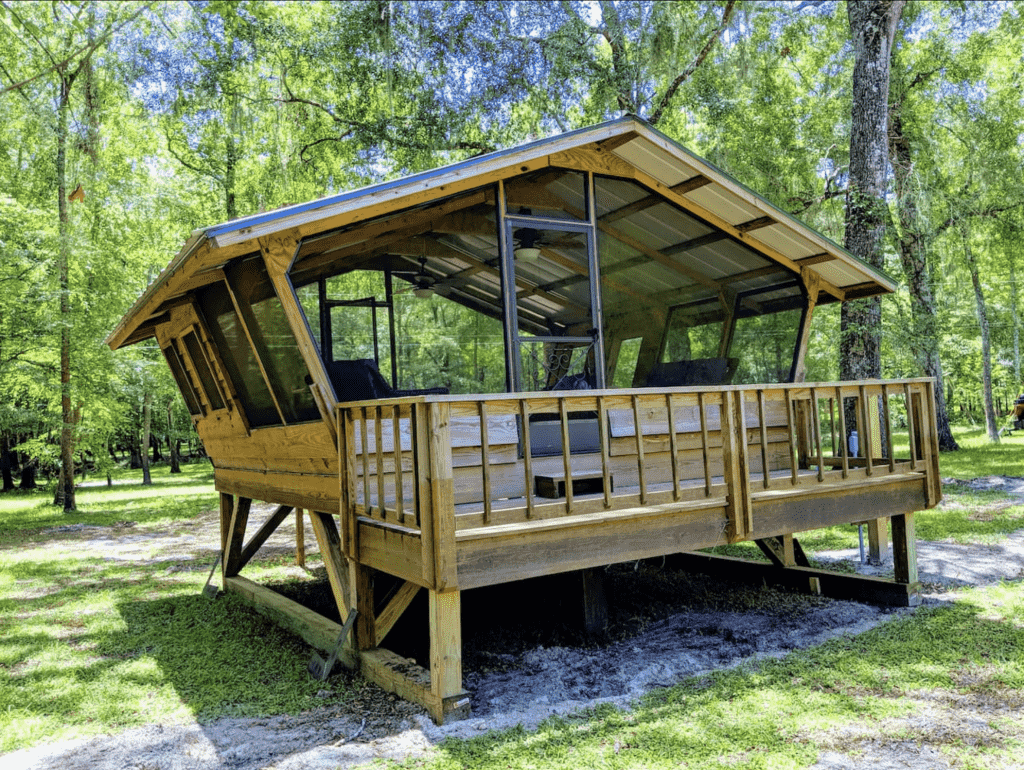 The Treehouse at Danville
This treehouse isn't your grandmother's treehouse. It looks like it was made from disassembled carnival rides or like something out of a Dr. Seuss book! In Geneva, you can glamp in this truly unique, whimsical Treehouse at Danville.
Once you ride the tree trunk elevator up to yurt-level, you'll find a queen murphy bed and a TV with Netflix and Amazon Prime. There's plenty of accent lighting to create the mood of living in a tree under the stars. It can't get more romantic with a 4-foot skylight above.
There are two deck levels: On the upper deck there's a swing chair and table. The yurt-level deck has a gas grill and fireplace with seating.
Our favorite part? The mid-level deck has a two person shower and a hot tub made from an actual DC 10 jet engine cowling!
Because there are so many amenities on the grounds, like an Irish Pub and over 500 trails to traverse, you will be provided with a golf cart for the duration of your stay!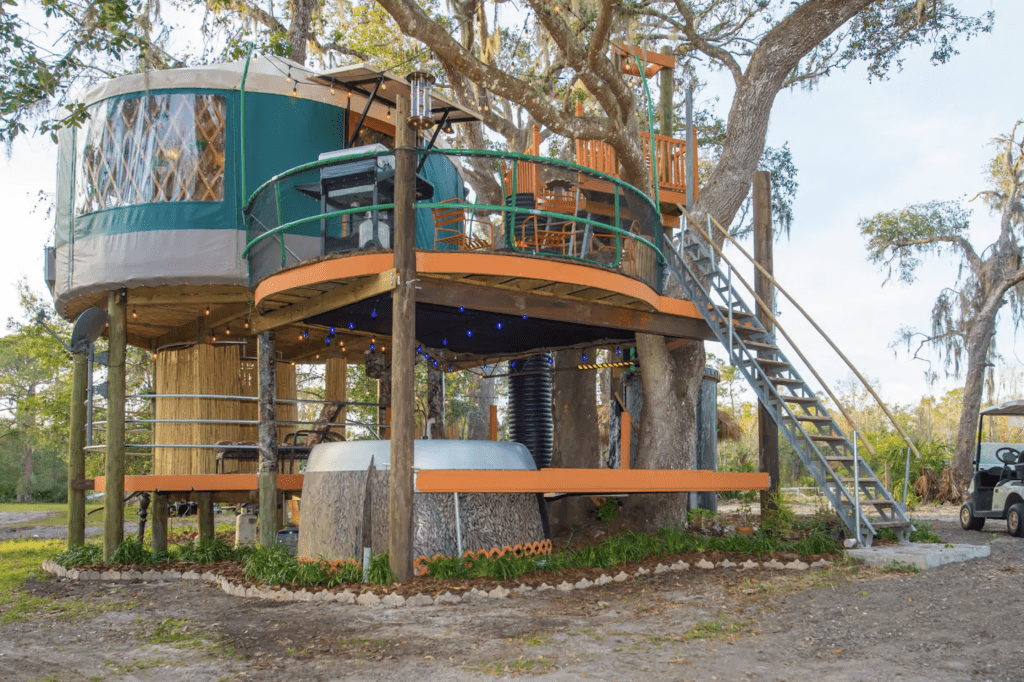 Treehouse + Cabin Retreat
Just to the southeast of Orlando off of I-4, you'll find the Treehouse Cabin Retreat! In a rustic cabin/treehouse, disconnect from your busy lifestyle and reconnect with those you love!
Manatee Springs State Park and Fanning Springs are an easy drive away. Boating or fishing the Suwannee River, hiking the Nature Coast Trail, kayaking Hart Springs, or driving down to lovely Cedar Key are all nice outings.
This is actually two listings in one, you get one of the best cabins in Florida and a treehouse! The old Hunting Cabin has a full kitchen and 3 beds. The Treehouse has room for 4 to sleep. Both have A/C window units and heaters.
There is no running water or electricity in the treehouse, so plan accordingly. The cabin does have a full bathroom.
Kangaroo Treehouse
Right near Ocala, you'll find the Kangaroo Treehouse! For adults only, climb up into a comfy, bohemian treehouse. Certainly one of the prettiest options for glamping in Florida, this is one of the best treehouses in Florida.
This airbnb is actually a treehouse! The 8×15 space was built actually around a tree! Double French doors on sliders open to let you in.
In the mornings, you can feed the horses from a porch a hammock swing, table, and comfy chairs. If that's too close for comfort, then enjoy watching them as they graze in the distance.
The treehouse does have light and one electrical outlet. Keep in mind this is a real treehouse, so there may be bugs. This unit is also adults only, no kids or pets allowed.
The unit was built on a small farm, and the owners are friendly and will answer any questions. Make sure to ask them about their pet kangaroo!
Check Rates: Airbnb.com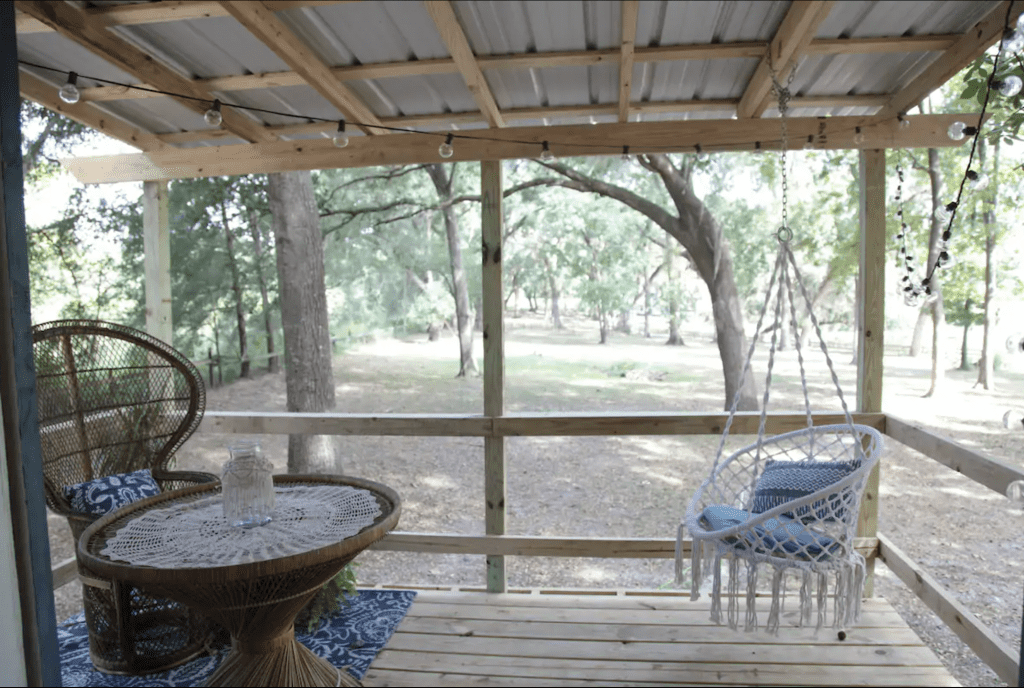 Treehouse in the Cloud
Inside Saint Cloud, just 26 miles south of Orlando, you'll find an aptly named spot: The Treehouse in the Cloud. A perfect romantic getaway for couples, date night is here!
The Treehouse in the Cloud brings the magic. A full wraparound walk and deck surrounds a small room with large windows. When you fall asleep, you'll drift off underneath the stars with a clear view of your surroundings.
14 feet up, you have your choice of stairs or a fixed ladder. Inside, you'll also find a table and chairs, a full bathroom, and a kitchenette.
Look inside the refrigerator for some carrots. Then make some lifelong friends and feed the four horses on the property! They will love you!
While the kitchenette doesn't have a built-in stove or oven, you will find a toaster oven, electric frying, and microwave. You can also find a fire pit in the common area, and the hosts even offer to start the fire for you!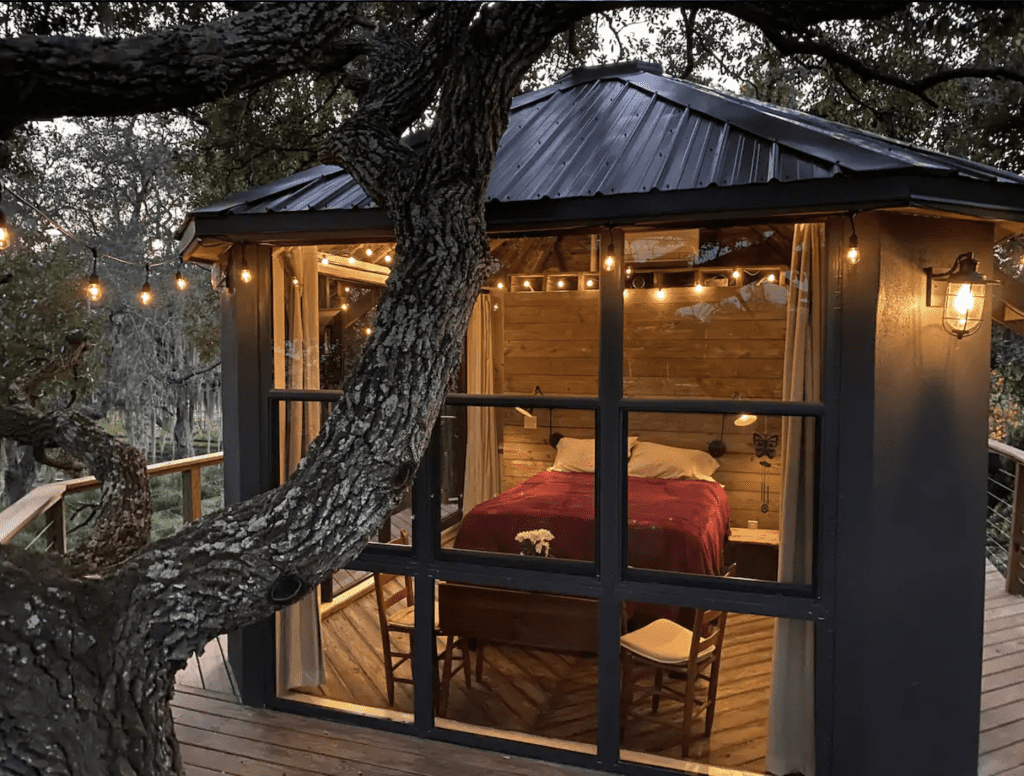 Luxurious Modern Treehouse with Mineral Pool
If you're on vacation, then you deserve luxury! When you stay at the Luxurious Modern Treehouse, you won't sacrifice an ounce of glamour for comfort!
Nestled between two pine trees in Palm Beach Gardens, you'll get the best of both worlds. The beauty of the northeastern woods and the warmth of the tropical southern sun!
Because the treehouse is nestled on private property, you can make use of the host's pool, jacuzzi, grilling area, and backyard. This space is strictly booked for guests' use when you stay here.
Inside you can sleep up to 6 guests (4 adults and two additional children). There is also a full bathroom, kitchen, and flatscreen television. Look up, the ceilings are vaulted! Enjoy your morning coffee in a chair on the porch.
The amenities here are insane! The kitchen has a minifridge, a countertop ice maker, a sink with running filtered water, and a full-size under-mount microwave. On the counter, you'll find a small oven and countertop induction cooktop.
Animal lovers, rejoice! The grounds are also a small farm, so you can treat your kids to the farm experience! You can feed goats, chickens, ducks, prairie dogs, and squirrels!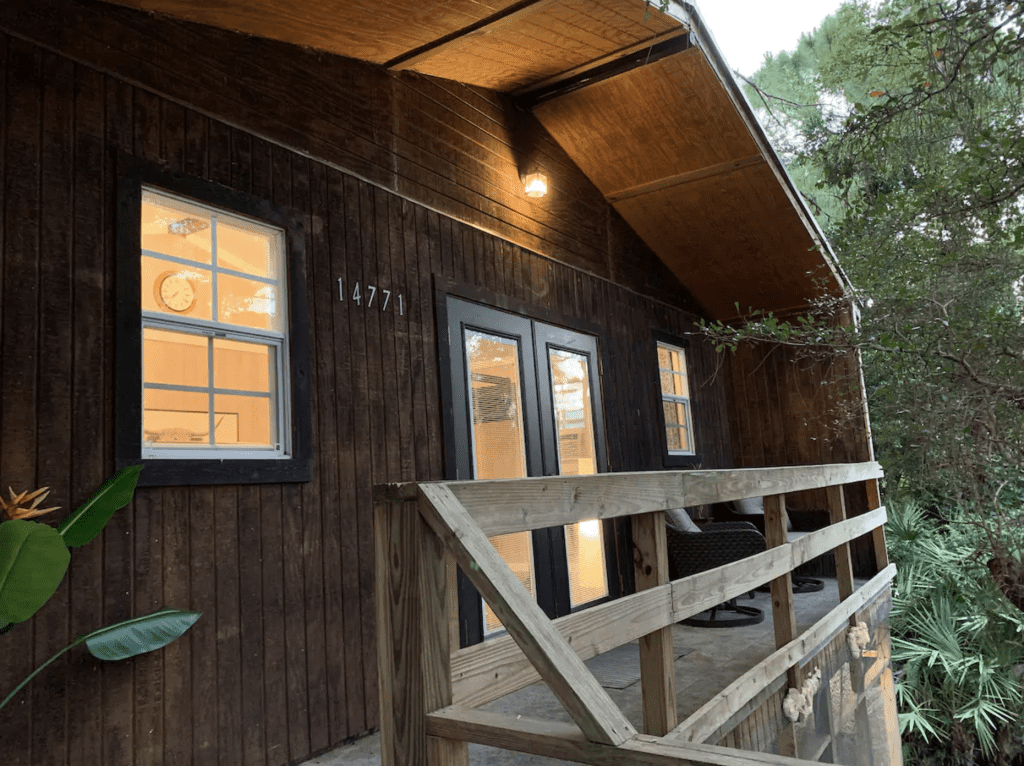 Disney Treehouse
In Haines City, only 30 minutes away from Orlando, you'll find one of the most magical treehouses in Florida! Named for its proximity to Disney, you won't find a better place for relaxation than at the Disney Treehouse.
Windows and skylights through the roof let you peer up into the trees and skies above. You'll be completely immersed in nature.
While there is no full kitchen, you will have a refrigerator and microwave. The treehouse also has a SmartTV, wifi, A/C, and heating unit.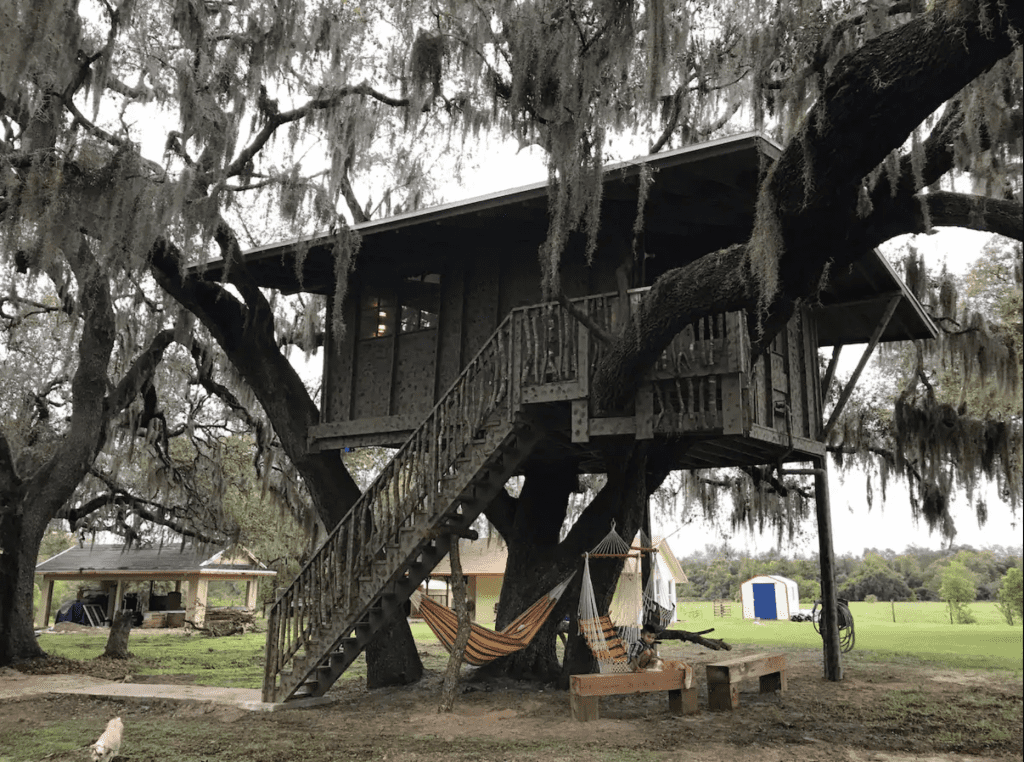 Garden Treehouse
You'll find a perfect oasis on the road to Miami Beach and Key West. The Garden Treehouse can be found in Cutler Bay, just south of Miami.
Inside one of the best treehouses in Florida, you'll find a full-sized bed with a private bathroom next door. A free continental breakfast is offered every morning (coffee, tea, hot cereal, cereal bars).
You'll also find a bluetooth speaker, a Smart TV, A/C unit, and multiple outlets. Wifi is available, but is most reliable on the balcony or by the window.
Come enjoy the views of the adjacent garden, go for a swim, take a nap in a hammock, ride the bike or walk in our nice, safe, and quiet neighborhood, and just relax.
Because you're so close to the city, you'll be only a short drive away from Miami's best restaurants and some of the best family beaches in Florida. Don't spend all your time in the cabin!
Check Rates: Airbnb.com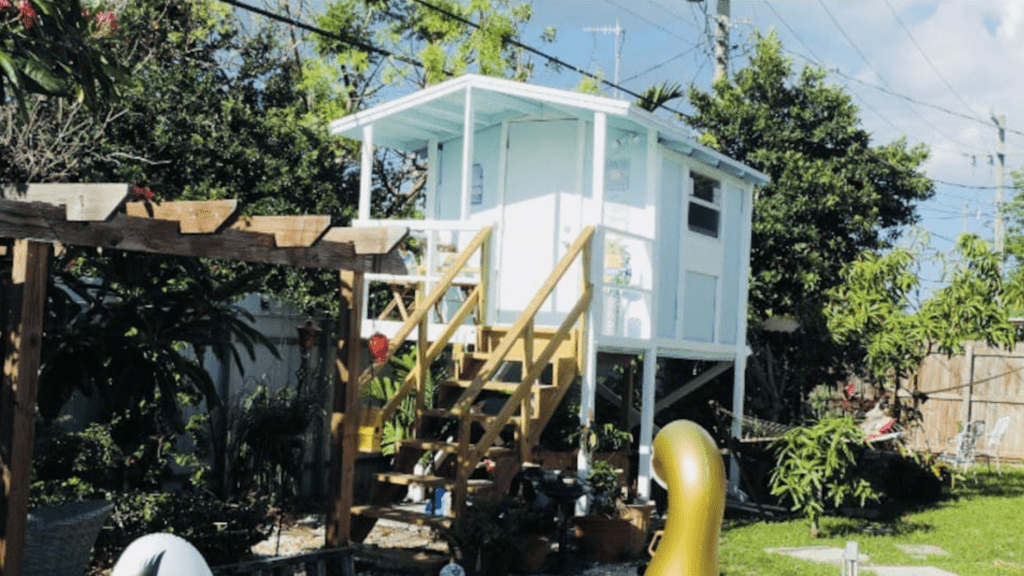 North Island Treetop
Just to the south of Vero Beach in Fort Pierce, you'll find a quiet secluded escape perfect for weary travelers. The North Island Treetop is one of the best treehouses in Florida!
This treehouse rental in Florida can be found on top of a fellow traveler's home at the end of a quiet dirt road, two blocks from the beautiful beaches of Fort Pierce Inlet State Park. A spiral staircase leads you to the balcony overlooking tropical gardens.
Inside, you'll find a spacious living area with antiques and funky art! With a king and a full mattress in each of the two bedrooms with a full bathroom, you'll have plenty of space to stretch your legs!
The full kitchen has many extra amenities that add a luxury element to this treehouse. In the living space, you'll find a Smart TV and a music system. Sink into the comfy chairs and relax!
This listing is perfect for those looking for a secluded escape. Those wanting nightlife and restaurants will have to drive ten minutes off the island to Fort Pierce or 20 minutes up to Vero Beach.
Check Rates: Airbnb.com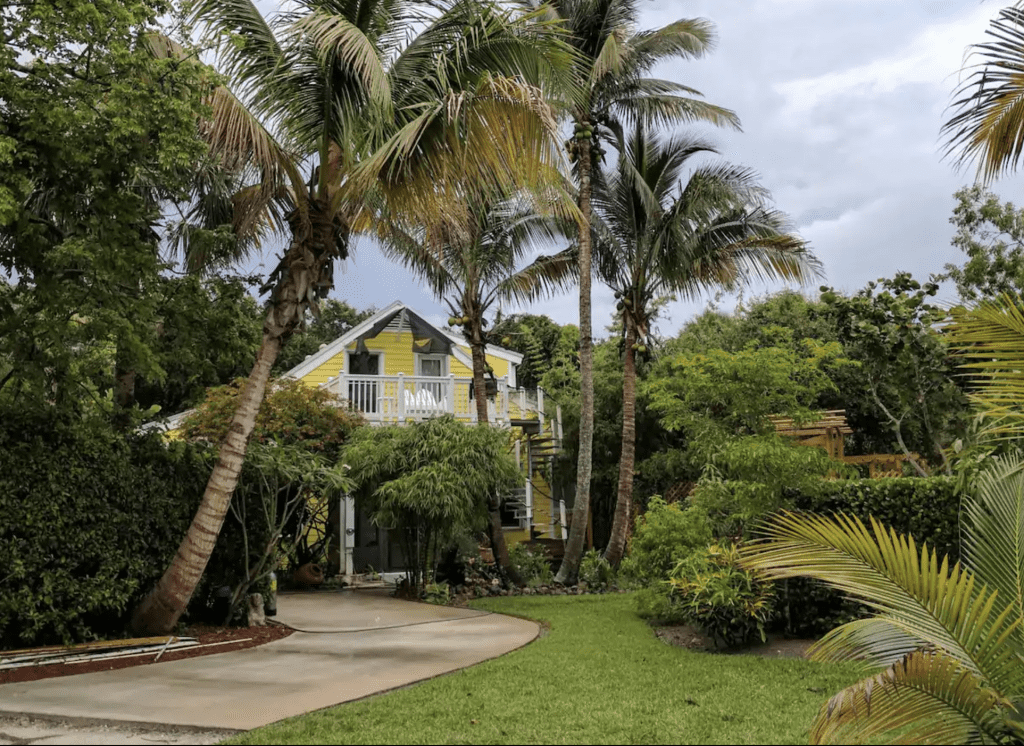 Tampa Treehouse
In the bustling city of Tampa, you can find one of the best treehouses in Florida. But at the Tampa Treehouse, you're actually renting the entire house too!
Perfect for big families or large groups, the two-story house can sleep 6-10 people comfortably! Each of the three bedrooms have flat screen TVs, and the space has three full bathrooms.
The living space also houses a 60-inch flatscreen TV with beautiful bamboo flooring. The kitchen is equipped with stainless steel appliances. Downstairs, you'll even find a pool table, corn hole, and weber grill!
Guests can enjoy the scenic Rocky Creek, with access to fishing. Down the road, you'll find International Mall, a shopping and dining destination. Tampa International Airport is also right around the corner.
Check Rates: Airbnb.com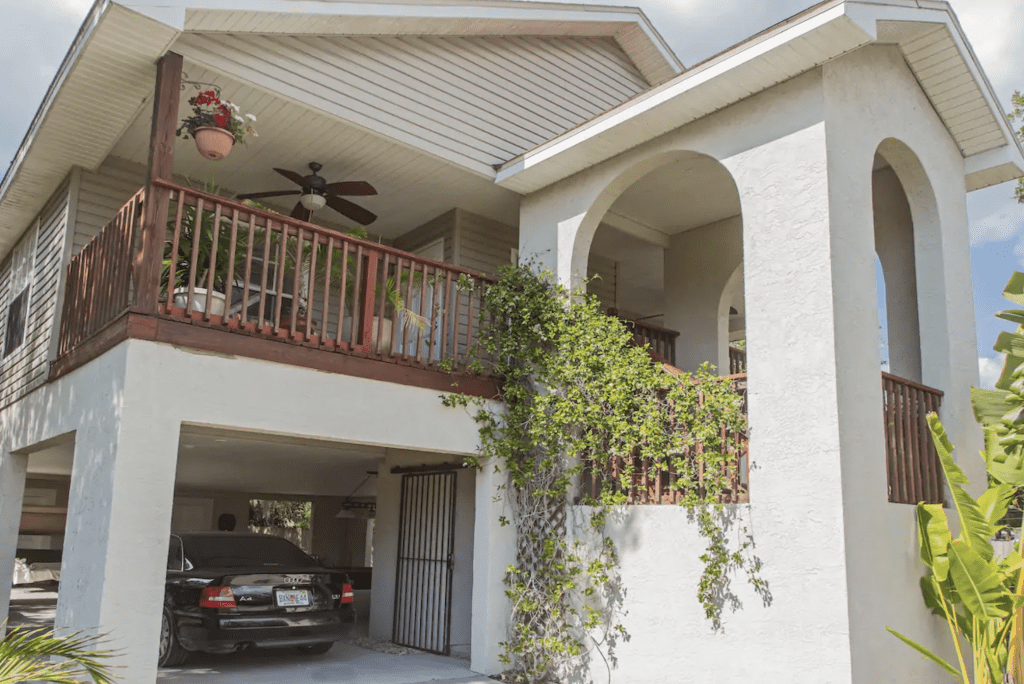 Tiny Tree Lake House
In Naples, for the most luxurious retreat, you need to visit the Tiny Tree Lake House! One of the best treehouses in Florida, this quaint home has everything!
Beautifully sitting over a tiny tilapia pond, the two-story stilt treehouse itself is just charming. But once you get inside, you'll find nothing but luxurious amenities!
The kitchenette has a fridge, microwave, and Keurig. Underneath the house, you'll find a grill and a private beautiful outdoor shower. The living space also has a full bed and a DirecTV full package.
When you're not relaxing in the treehouse, you can relax in the private jacuzzi or fire pit! The host also has a bicycle available if needed. You're only a short distance from some of the most beautiful beaches in Naples!
Check Rates: Airbnb.com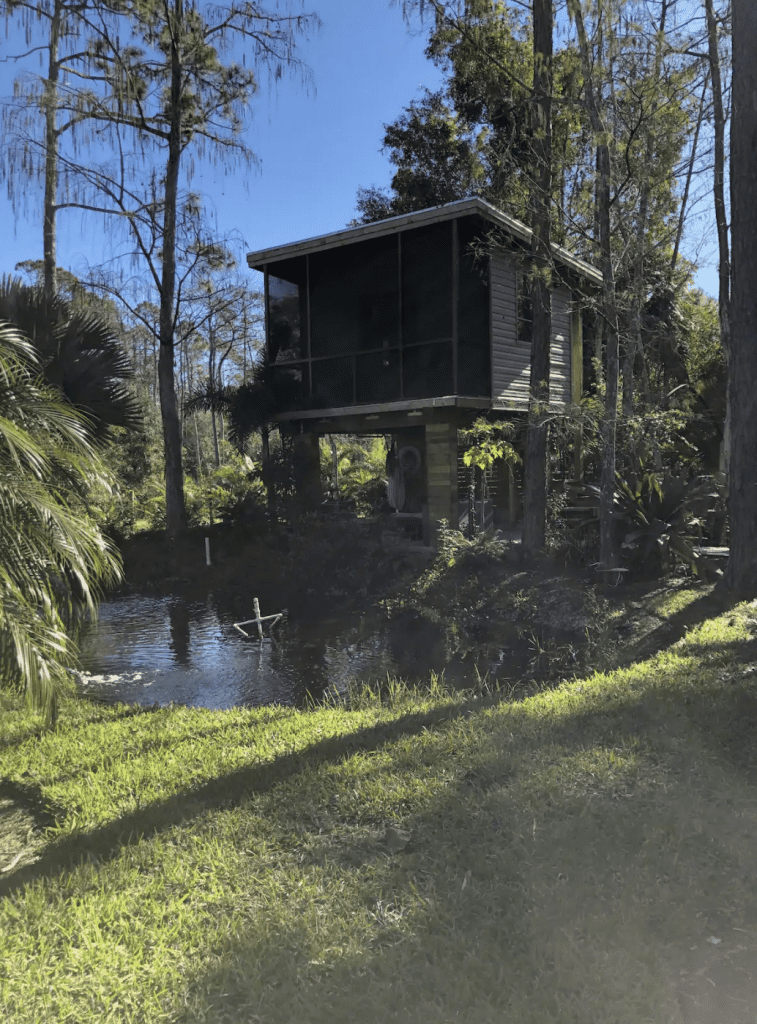 Exotic Polynesian Treehouse
This next listing may be one of the most expensive treehouses in Florida, but it's so gorgeous we had to include it. In Longboat Key, the Exotic Polynesian Treehouse runs $1,300 per night.
Perfect for large family reunions or gatherings, the Exotic Polynesian Treehouse is your private island escape. We're not kidding, the only way to get there is to take the pontoon boat that comes with the rental!
Once you arrive, you'll walk up to what looks like a page out of National Geographic. A large structure that looks like many Polynesian-style huts surrounded by palm trees makes you feel like you're not in Florida, but you've arrived in Bali.
A whopping 6 bedrooms can sleep 16 guests total throughout these individual "huts." The units are all connected with a covered walkway, with over 6,000 square feet total.
Inside you'll also find 4G Wifi, 3 A/C systems, and TVs in every room! Gather together in the Great Room to share drinks over the Bamboo Bar. Or you can walk a 1/2 mile down to the beach to collect shells on the 5-acre sandbar.
Check Rates: Airbnb.com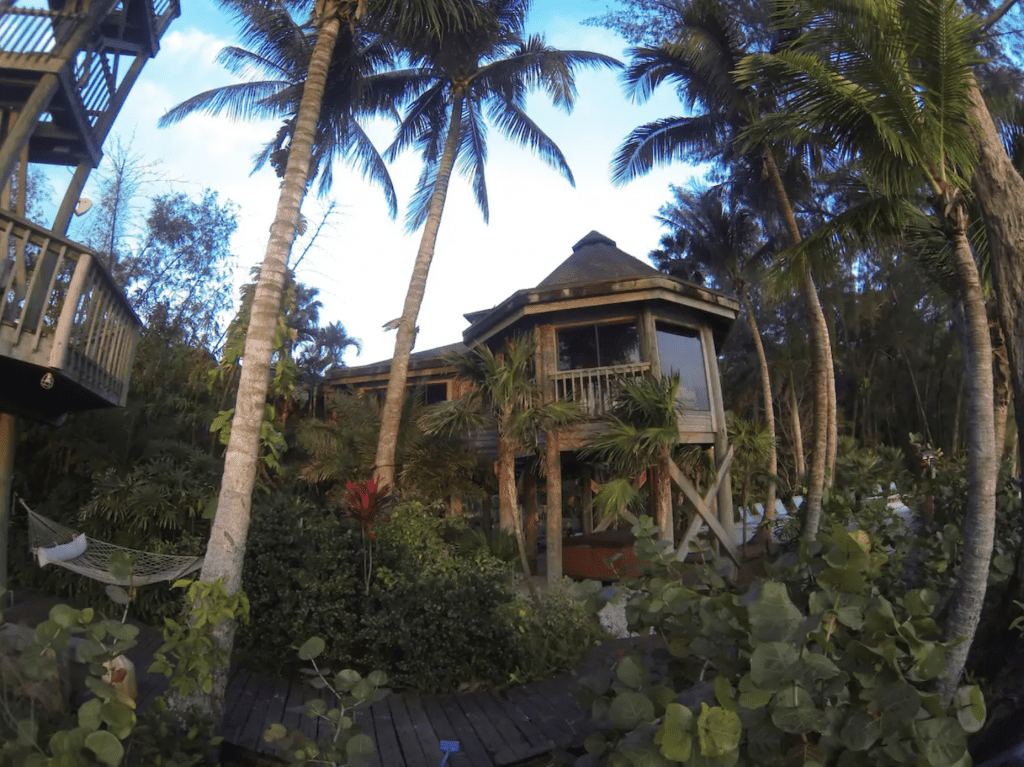 Glamping Treehouse
In Live Oak, in between Jacksonville and Tallahassee, you'll find an escape on a farm! The Glamping Treehouse is one of the best treehouses in Florida!
This treehouse was built to bring back those fond childhood memories. Found on Kokomo Farms, you'll be sharing the land around the treehouse with rescued barnyard animals and horses!
Inside, you'll find a full bed with memory foam with netting to protect you from bugs. The roof is clear, so look up as you fall asleep under the stars!
You also have access to the hot tub in the zen garden, where you'll also find yard games, an art-wall, and a grill. Enjoy the community fire pit or wander the horse pastures.
The host encourages you to wander the grounds. Stop into the barn and say hello to the chickens. You'll love walking the many quiet hiking trails nearby.
Check Rates: Airbnb.com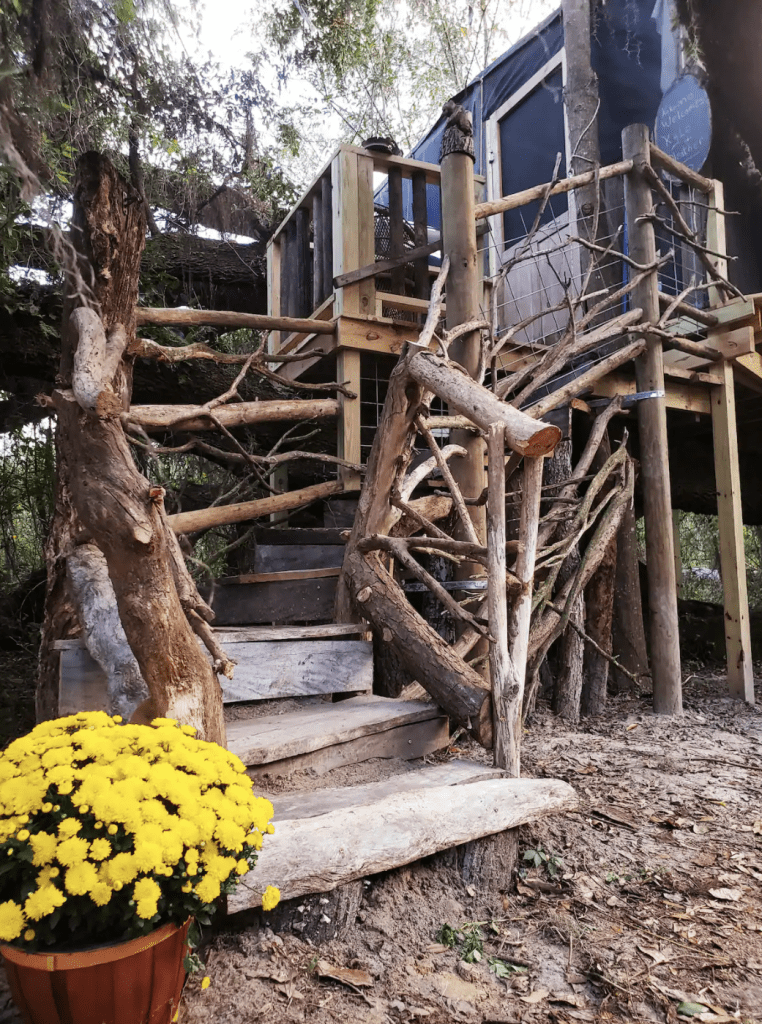 Did You Find This Post Helpful?
If so, we would love to keep in touch! We enjoy seeing photos and comments about your experiences in Florida! You can follow us on Instagram and we will repost your photos on our feed and comment too! Just tag us at @floridatrippers and hashtag #floridatrippers. We can't wait to see your travels!